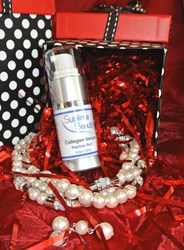 Sublime Beauty® has matched fashion jewlery with popular serums in festive Christmas gift boxes. Surprise her with a special double gift.
St. Petersburg, FL (PRWEB) December 11, 2013
Christmas is fast approaching, and it is time to find those great gifts. Sublime Beauty® has lots of great products.
The company has put together a Gift Guide and a Christmas Gift Page on its website. This includes gifts for men and women.
In addition to its normal product inventory, many of which make great gifts, Sublime Beaut®y also matched fashion jewelry with various popular serums in lovely Christmas boxes for stunning gifts. And no gift wrap necessary!
One such pairing is a beautiful pearl braided necklace and earrings with the popular Collagen serum in the Christmas box, currently 43% off.
"We love the festive, sturdy Christmas boxes with red cello fill - and have put together all sorts of jewelry and Sublime Beauty® serums - exactly what women want," says Kathy Heshelow, founder of Sublime Beauty®.
All Sublime Beauty® products are sold through Amazon, so purchasers can benefit from fast and free shipping and secure checkout.
"Those interested can sign up for our secret deals and newsletter on the website, too," says Heshelow.