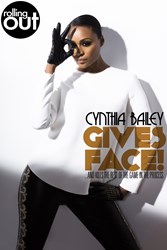 Rolling out is applying cutting edge social media technology...
Atlanta, GA (PRWEB) December 10, 2013
Urban Digital Magazine launches 360° multimedia package for talent and brand partnerships.
Rolling Out launched its newly developed photo-sharing app, which provides a 360-degree multimedia experience, during the 'Cover Party' for 'RHOA's' Cynthia Bailey at bar One in Atlanta on Monday, November 18. The customized app curates images that are tagged with a branded hashtag as well as engages talent, brands and followers allowing them to have a unique experience directly on their mobile device.
"Our newly developed software allows us to engage corporate sponsors and clients on social media platforms, like Facebook and Instagram, and provide metrics. The 'Cover Party' platform includes all areas of media including social, digital and video," says publisher and CEO Munson Steed.
"Rolling out is applying cutting edge social media technology that amplifies tactical brand marketing programs which lead to increased awareness and incremental sales. The combination of these tools help generate interest while connecting with consumers in a relevant yet organic way," adds Corey Laney, division manager of Multicultural Trade Marketing for the Republic National Distributing Company, LLC.
The rolling out photo-sharing app is customized for clients and agencies then distributed to all media, photographers and event managers. Social media enthusiasts who interact with the photo-sharing app will have the ability to share their favorite photo(s) on Facebook and Instagram.
For additional photos from the event or information on rolling out's comprehensive media experience, visit: http://www.rollingout.com.