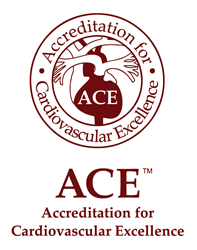 More cardiac cath labs are realizing the importance of accountable metrics and know it's time to get started on the quality journey with Accreditation for Cardiovascular Excellence. -Mary Heisler, RN, BA, Executive Director, ACE
Washington, DC (PRWEB) December 10, 2013
Rounding out a very successful year, Accreditation for Cardiovascular Excellence (ACE) reports they have reached record-breaking numbers of accreditation applications for cardiac cath labs in 2013. "Accreditation applications have more than doubled since 2012," said Mary Heisler, RN, BA, ACE Executive Director. "More labs are realizing the importance of accountable metrics and know it's time to get started on the quality journey with ACE."
Notable ACE accreditation achievements in 2013 include:

Full accreditation status for the King Faisal Specialist Hospital and Research Centre (KFSHRC), Riyadh, Saudi Arabia: the first non-US facility to attain the distinction of ACE accreditation.
Lawrence General Hospital, Lawrence, MA: the first hospital in New England and the first community hospital that performs PCI without on-site cardiac surgery to complete ACE accreditation.
St. Joseph's Hospital Health Center, Syracuse, NY: the first hospital in New York and the second in the United States to accomplish ACE accreditation in all three cardiovascular quality disciplines: Diagnostic Cath, PCI and Carotid Artery Stenting (CAS).
Penn Medicine Chester County Hospital, West Chester, PA: the most recent lab to achieve accreditation with ACE. Read about their quality lab in the November Cath Lab Digest issue. (http://www.cathlabdigest.com/articles/Penn-Medicine-Chester-County-Hospital-Cardiovascular-Center?page=2&i=f47ca44a27)
Bon Secour St. Francis, Greenville, SC: the first ACE accredited facility has just completed the recertification process, continuing the quality partnership with ACE.
The greatest significance of all the ACE accreditation accomplishments thus far has been every facility's unanimous praise for the ACE program. Perhaps best stated, because of the reminder that quality is a universal issue, by Mr. Keith Barron, Quality Assurance Coordinator, KFSHRC, Heart Centre, said: "We decided to seek accreditation through ACE because they are the only accreditation system that provides cardiac cath lab certification. We looked to ACE to validate our processes based on global best practice."
About Accreditation for Cardiovascular Excellence
ACE, an independent organization sponsored by the Society for Cardiovascular Angiography and Interventions (SCAI) and the American College of Cardiology Foundation (ACCF), offers independent evaluation and monitoring of facilities that provide cardiovascular care. By reviewing facility and operator performance and comparing clinical decision-making to nationally accepted best practices, ACE peer review and accreditation services plays a critical role in continuous quality improvement programs. Learn more at http://www.cvexcel.org.