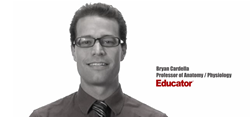 Professor Cardella has achieved a perfect balance of detailed educational facts and illustrative comic relief.
Los Angeles, CA (PRWEB) December 12, 2013
The human body is amazingly complicated--what, where, why, and how it functions is the discipline of Anatomy and Physiology. Educator.com's Professor Bryan Cardella breaks down this vast subject organ by organ, atom by atom.
Through his teaching career as a life science instructor, and experience as a stand-up comedian, Professor Cardella has achieved a perfect balance of detailed educational facts and illustrative comic relief. His energy and excitement for anatomy and physiology make this an entertaining and very informative course for anyone--high school or college students, aspiring medical practitioners, and curious minds alike.
Every organ system from the respiratory to the integumentary system is covered in this in-depth course. How does our body heal from cuts and wounds? What is it about our eyes that allow us to see? What and where is a pericardium? Professor Bryan Cardella answers all this and more, providing plenty of images, hand-drawn diagrams, and lively explanations to help make anatomy and physiology as easy to digest as possible. Following completion of this course, students should appreciate and better understand the complex world of the human body.
Anatomy and Physiology along with other science courses like AP Biology and Biochemistry are available at Educator.com's growing library of 80+ courses. Educator.com believes in fostering lifelong learning of any subject: math, science, computer science, software training, and more. A subscription of just $35/month--$1 a day--gives you unlimited access to all 90+ courses. Super saver options are also available at $150/half a year or $240/year.
Educator.com is proud to provide today's scholars with advanced digital study materials that meet both their academic and financial needs. New and exciting courses are frequently added. At this time, Educator's Anatomy and Physiology lessons and accompanying free sample lessons are available for immediate viewing.
###
Educator.com pairs students with the best university professors and educators in the country. Educator's goal is to provide high school, college, and professional students with a variety of academic subjects in an online video format that is affordable, accessible, effective, and comprehensive.
The most effective way to improve education is to have the best teachers teach. With the best instructor in a subject, learning anything is possible. Every student deserves an excellent education regardless of geographic location or socioeconomic status and with Educator.com's affordable pricing everyone can access the site's complete content. For more information about the company, please visit the About Us Page.