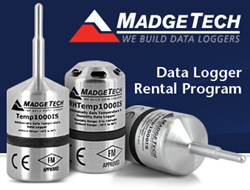 (PRWEB) December 09, 2013
The MadgeTech Data Logger Rental Program provides the ability to try before you buy. As always, the technically skilled MadgeTech sales staff will advise you on any data logger or data logging system selection to be sure you get the right tool for the job. The added benefit of the rental program will allow users the opportunity to test out different device options before making a long term commitment.
Do you have an isolated project that needs data logging? MadgeTech's data logger rental program offers the ultimate flexibility for providing the proper equipment, experienced support staff, and consultation to execute a project with confidence before making device purchases.
In many cases, budgets are designed to allow for rental options in lieu of purchasing data logging equipment. The MadgeTech Data Logger Rental Program is ideal for organizations that are structured to do just that.
MadgeTech will consult and tailor the MadgeTech Data Logger Rental Program package to fit the needs of the individual and the application. For additional information or to discuss your specific needs further, please visit http://www.madgetech.com/rental-program or call (603) 456-2011 to speak with our expert sales and support staff.