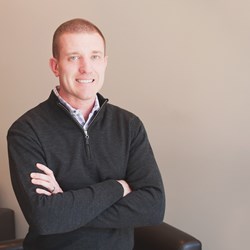 Cole's background and experience make him an excellent addition to our team - Jim Mitchell, Sr. VP of Sales
Fort Collins, CO (PRWEB) December 17, 2013
Center Partners has hired Cole Proper as their new Vice President of Sales. Cole's successful strategies for optimizing customer loyalty, revenue and market performance through business process outsourcing (BPO) partnerships were thought to be an excellent complement to Center Partners, who in 2012 became the first ever JD Power Certified Call Center Outsourcer. Cole will join Senior VP of Sales Jim Mitchell to help acquire new business and increase visibility for Center Partners, a U.S. based call center headquartered in Fort Collins, CO. Cole has 14 years of experience advising mid-size to Fortune 50 companies, and earned a Bachelor of Science in Marketing from Illinois State University.
"We are committed to providing high quality services to our blue chip clients who are working with Center Partners to promote and protect their brands in the US," said Center Partners Senior VP of Sales Jim Mitchell, "Cole's background and experience make him an excellent addition to our team."
Prior to joining Center Partners, he held positions with AFFINA, West and Convergys. Cole's experience spans operations, account management and new business development serving Consumer Products / Packaged Goods, Telecommunications, Publishing, Technology, Retail / e-commerce, and Media & Entertainment companies. He has been featured as a contributing writer for Professional Selling: A Trust Based Approach and authored Aligning Sales Force Responsibilities with Growth Goals: Four Sales Support Models to Maximize Performance.
Center Partners is a leading provider of high value contact center and web self-service solutions for consultative sales, customer service, technical support, outbound campaigns, and order entry/fulfillment. They work within multiple industries including retail, financial services, consumer electronics, telecommunications and wireless services. The company has 4,000 employees in 6 locations across Colorado, Idaho and Washington. It is a subsidiary of Kantar, the parent company for WPP's market research companies.