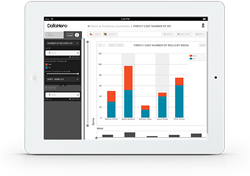 the future of analytics lies in ease of access to a company's crucial business data
Palo Alto, CA (PRWEB) December 10, 2013
DataHero, the first web application that allows anyone to visualize and understand their data, announced today the GA release of its powerful cloud-based data visualization platform.
"Today's release represents the culmination of months of user testing and design iteration, and incorporates feedback we've received from thousands of users all over the world," said Chris Neumann, CEO and Cofounder of DataHero. "Our new interface makes it easier than ever for business users to import data from the services they use everyday, analyze it with powerful features like drag-and-drop cohort analysis, and create and share dynamic visualizations."
The company also announced that it has raised $3.15 million in additional seed funding led by existing investors Foundry Group, which it plans to use to expand its team and continue development of key enterprise features.
"DataHero has made sophisticated data visualization tools accessible to a broad audience across a wide variety of popular enterprise SaaS data sources and cloud storage services. They recognize that the future of analytics lies in ease of access to a company's crucial business data, which in today's environment is increasingly spread across numerous SaaS applications and cloud storage filesystems," said Foundry Group Managing Director Ryan McIntyre.
In addition to its new interface, the new release of DataHero adds connections to leading online services SendGrid, Desk.com and Quandl, enabling users of those platforms to analyze and visualize their data directly in DataHero.
DataHero also introduced new group licensing options for its Premium service, with team plans starting at 5 users. Additional information on DataHero pricing plans is available at: https://datahero.com/pricing/.
About DataHero
DataHero helps you unmask the answers in your data. There's nothing to download or install. Simply create a free account at https://datahero.com and connect to the data services you use everyday. DataHero automatically decodes your data and makes it easy to find answers through dynamic visualizations. Founded in 2011 by big data veteran, Chris Neumann, and consumer experience expert, Jeff Zabel, DataHero is based in Palo Alto, CA.
About Foundry Group
Foundry Group is a venture capital firm focused on making investments in early-stage information technology, internet and software start-ups. Their passion is working alongside entrepreneurs to give birth to new technologies and to build those technologies into industry-leading companies. Located in Boulder, Colorado, Foundry Group invests in companies across North America.
Contacts
For more information, please contact press(at)datahero(dot)com.