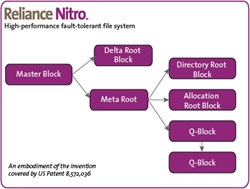 The Q-Block enables the tree structure to grow and shrink as needed without recursion, resulting in a robust and reliable system.
Bothell, WA (PRWEB) December 12, 2013
Datalight Inc., leading developer of flash file systems known for improving performance and reliability while extending device lifetime, today announced the issuance of US Patent No. 8,572,036 for the invention of a reliability method and apparatus used in its flagship Reliance Nitro high-performing fault-tolerant file system.
An embodiment of the invention, described in the patent as a "Q-Block" provides Reliance Nitro the ability to perform dynamic resizing of the file system tree architecture without risking the integrity of the structure or data contents of the file system, all while minimizing writes.
"Tree structured file systems enable high-performance and efficient storage of large files. The challenge of storing allocation information in a tree structure is that the tree itself must grow and shrink at times." said Jeremy Sherrill, File Systems Architect for Datalight. "The Q-Block enables the tree structure to grow and shrink as needed without recursion, resulting in a robust and reliable system."
The latest patent brings the Datalight portfolio to 4, each of which relate to the storage of data in computer systems, particularly embedded devices. Two of the patents cover methods related to flash memory while the third also addresses file system reliability methods.
"We are constantly striving for ways to protect the integrity of our customers data in the harsh embedded environments in which they run" said Ken Whitaker, VP of Engineering for Datalight. "as the Internet of Things expands, the volume of data being collected and managed on embedded devices is growing exponentially. Predicting how much data an embedded device will ultimately store is extremely difficult. This invention helps Reliance Nitro to remain responsive over time to data demands."
Data integrity is a critical requirement in embedded devices used in such diverse applications as electronic payment terminals, factory line automation, automotive engine controls and flight data recorders. Licensees of Datalight's technology are often the leading manufacturer in their categories and consider the reliability Datalight provides a competitive advantage.
About Datalight
Datalight, Inc. headquartered just north of Seattle, Wash., develops technologies to reliably manage data in embedded devices. Datalight file system and device driver software ensures reliability, performance and flexibility and is used worldwide on many of today's most well-known devices. For more information, visit http://www.datalight.com/ or call 800.221.6630.
DATALIGHT, Datalight, the Datalight Logo, FlashFX, FlashFX Pro, FlashFX Tera, Reliance, Reliance Nitro, ROM-DOS, 4GR, One-Boot, One-Boot+File, and Sockets are trademarks or registered trademarks of Datalight, Inc. All other product names are trademarks of their respective holders. Other marks used herein are the property of the respective owners.