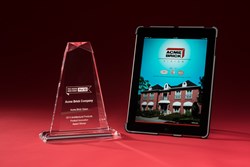 With Acme Brick Vision, it is possible to create over one million unique combinations of brick, mortar, roof, and trim colors. - Britt Stokes, Marketing Director, Acme Brick Company
Fort Worth, TX (PRWEB) December 11, 2013
Architectural Products Magazine's Product Innovation Awards (PIAs) determine and honor innovation in the development and refinement of buildings-related products that range from cladding systems to interior finishes. Judged by a group of 50 independent industry professionals, the program is a mechanism to impartially review products and present them to Architectural Products Magazine's readers.
This new, free app - Acme Brick Vision - allows iPad users to view Acme Brick Company's brick product line on both residential and commercial building elevations, or as a brick sample in a close-up view. Acme Brick Vision allows the user to pick an elevation, put their choice of brick on the building, and change variables such as mortar color, trim paint color, and roof color. With Acme Brick Vision, it is possible to create over one million unique combinations of brick, mortar, roof, and trim colors.
Acme Brick Vision enables consumers and building professionals to compare brick and mortar color selections and view them wherever they have access to the Internet, even on site. This ability to view and compare selections indoors or out, at a moment's notice, makes the brick and mortar selection process more efficient and accurate. Download the Acme Brick Vision app at the Apple App Store at https://itunes.apple.com/us/app/acme-brick-vision/id636974483?mt=8.
Jim Crockett, Editorial Director of Architectural Products Magazine commented, "Building on the success of last year's inaugural program, our second edition of the Product Innovation Awards proves commercial building manufacturers are committed to, and are working arduously toward, delivering more sustainable products, as well as products that deliver better performance, life, and affordability."
The November issue of Architectural Products Magazine will present this year's most innovative product introductions. The staff of Architectural Products Magazine firmly believes that these award winners will help architects in their specifications, be they from efforts to achieve greater energy efficiency, or simply to add visually or aesthetically to a space. Acme Brick Vision is feature on p. 51 of Architectural Products November issue at: http://www.arch-products.com/fastpath/index.php?pg=51&d=0&v=0&a=0
For information about Acme Brick Company, contact your local sales office or: Marketing Department, Acme Brick Company, PO Box 425, Fort Worth, TX 76101 or visit http://www.brick.com.
Visit Acme Brick Company on Facebook at: http://www.facebook.com/AcmeBrickCo.