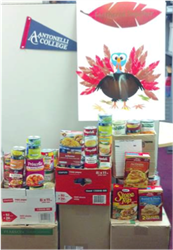 Antonelli College gives back to the local Cincinnati community.
Cincinnati, OH (PRWEB) December 11, 2013
Antonelli College raised support this week for the Cincinnati community by donating food items to local charities. Antonelli College students, staff and faculty collected 226 lbs. of food donations for the Freestore Foodbank and two boxes of canned goods and other items for the Matthew 25 Ministries. A total of 346 items was donated to the two local community organizations.
Additionally, starting December 9th, 2013, the Antonelli College campus will be holding a clothes drive. The drive's goal is to collect gently used clothes donations to be given to Antonelli College students in need, and any remaining clothes will be donated to a local charity. Donations can be dropped off at the downtown Cincinnati campus located at 124 East 7th Street, Cincinnati, OH 45202. For more information, call 513-241-4338.
About Freestore Foodbank:
The Freestore Foodbank is a founding member of Feeding America, the nation's largest network of food banks, over 200 across the nation. A provider of emergency food and client services, the Freestore Foodbank is the largest Tri-State food bank, serving 20 counties across Ohio, Kentucky, and Indiana.
About Matthew 25 Ministries:
Matthew 25 Ministries is an international humanitarian aid and disaster relief organization helping the poorest of the poor locally, regionally, nationally and internationally regardless of race, creed or political persuasion. Matthew 25 Ministries provides basic necessities, nutritional supplements, educational materials, micro-enterprise supplies and disaster relief across the US and worldwide.
About Antonelli College:
Antonelli College is accredited by the Accrediting Commission of Career Schools and Colleges (ACCSC) to award Associate of Science and Associate of Applied Science degrees and Diplomas. Antonelli College is accredited by the Ohio Board of Regents and approved the Ohio State Board of Career Colleges and School, OH Reg # 90-03-1270-T. The Antonelli College Practical Nursing Program is conditionally approved by the Ohio Board of Nursing. With campuses in Ohio and Mississippi, Antonelli College, a private college established in 1947, offers convenient classes during the day, evening, and online; graduate employment services are also provided.
Antonelli College's many fields of study include: ART & DESIGN: Graphic Design, Interior Design, and Photography; BUSINESS &TECHNOLOGY: Hospitality Management, Information Technology, and Marketing and Social Media Management; HEALTH AND WELLNESS: Dental Assisting, Massage Therapy, Medical Billing and Coding, Medical Assisting, and Practical Nursing. (Available programs vary by campus.) For more information, visit http://www.antonellicollege.edu.