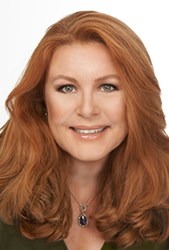 Albrecht's contributions and integrity will... promote the continued credibility of this pacesetting magazine.
New York, NY (PRWEB) December 11, 2013
Well-known privacy and security expert Dr. Katherine Albrecht has been selected as Associate Editor of the prestigious Technology and Society Magazine of the Institute of Electrical and Electronic Engineers (IEEE).
"I am delighted that Dr. Albrecht has accepted my invitation to join the Magazine," said Associate Professor Katina Michael of the University of Wollongong, Australia, the Editor-in-Chief of IEEE Technology and Society Magazine. "She brings to the Magazine a front line understanding of how technology impacts society. She has faced the hard questions head-on and got organizations thinking about their policies and practices."
Albrecht received her Ed.D. from Harvard and has cross-disciplinary qualifications in business administration, instructional technology, and human development and psychology. She also completed graduate-level coursework at the MIT Media Lab, and in MIT's Science, Technology, and Society program.
She is best known for educating the public about the privacy downsides of cloud-based Internet services, consumer loyalty shopper cards, and radio frequency identification (RFID). Her activism against the RFID industry led to the best-selling book "Spychips," which exposed how governments and global corporations planned to track the whereabouts and habits of everyday consumers using RFID microchipped products.
In addition to academic expertise in privacy and security, Albrecht has hands-on experience dealing with technology as a Vice President and spokesperson for StartPage.com, a private search engine company. She is also working on the rollout of StartMail.com, a soon-to-be-launched privacy-friendly, paid email service.
"Our Magazine is well known for publishing controversial pieces on the negative and positive consequences of technologies," said Michael. "Albrecht's contributions and integrity will continue to encourage this balance and promote the continued credibility of this pacesetting Magazine."
About Katherine Albrecht, StartPage, and StartMail
Dr. Katherine Albrecht is an internationally known consumer privacy advocate, syndicated radio host, bestselling author, and an executive with StartPage, Ixquick, and StartMail. Katherine holds both a Masters in Instructional Technology and a Doctorate in Consumer Education from Harvard University.
StartPage is an award-winning free search engine with an industry-leading privacy policy. StartPage and its sister Ixquick are the only search engines that are third-party certified and fully anonymous. They are also the only search engines to offer a free proxy service, and consistently outscore other websites on security measures. For more information, please see StartPage.com or Ixquick.com.
StartMail.com is the company's private email service that simplifies PGP encryption and makes state-of-the-art privacy protection easy and available to everyone. StartMail is based in Europe, beyond the legal reach of U.S. government agencies, like the NSA. More than 50,000 people have already signed up to beta test StartMail, which is rolling out this winter.