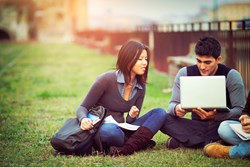 The time has never been more ripe to create a comprehensive plan to attract and retain students.
Los Angeles, CA (PRWEB) December 10, 2013
WebWiseTutors, LLC, a premier provider of online tutoring services, is pleased to announce a strategic partnership with EducationConnex, LLC, a leading provider of program specific, cost-effective solutions for improving prospect conversion and client retention.
Recognizing that most post-secondary schools face the dual challenge of attracting qualified students and then equipping them with the right academic tools to succeed, the two independent companies have partnered to provide universities with a competitive advantage that serves both the institution's prospect conversion and student retention efforts.
According to the National Center for Education Statistics, there are over 21 million post-secondary students enrolled in degree granting institutions in the United States, and almost 8 million—or 38 percent—of them are over the age of 25. In today's higher education landscape, competition between schools has never been greater, and not just to attract students, but to keep them in school and performing at a level that ensures success after graduation.
In fact, further statistics suggest that national economic prosperity depends on increased enrollments. By 2018, 63 percent of all jobs in the United States will require a post-secondary degree—a level of educational attainment currently possessed by 42 percent of the population. At the current rate that degrees are being conferred, the workforce will be short 3 million degree holders by 2018.
The time has never been more ripe to create a comprehensive plan to attract and retain students," said Jeff Swinhart, President of EducationConnex. "Our company leverages our enrollment expertise and intelligent services so that we can improve conversion rates, increase profitability and retention for universities. We do this by delivering customized ROI solutions. Through our partnership with WebWise Tutors, we can now offer the final piece of the puzzle to our customers—the academic support that allows students to not only stay in school, but to excel.
"Universities realize they must increase interest in their institution in order to reach more students and remain competitive," said Christopher Spohn, CEO of WebWise Tutors. "However, many universities lack the resources to respond immediately and nurture inquiries to students. EducationConnex connects prospects and increases conversion opportunities to enroll more students. We believe offering these customized solutions to our customers, along with our own full array of online tutoring services, will not only make our company more competitive, but also the institutions and students we aim to serve."
About WebWise Tutors
WebWise Tutors offers a full array of online tutoring services to elementary, middle school and high school students, as well as post­secondary, international, and adult learners. Using the Blackboard Collaborate Platform, audio, video, and fully credentialed teachers, WebWise Tutors provides 24/7, easy­to­access tutoring that offers high quality curriculum aligned to common core standards. WebWise Tutors works collaboratively with students, families, teachers and other professionals to promote success through an instructional model that supports individualized learning. For more information, visit http://www.webwisetutors.com
About EducationConnex
EducationConnex is a strategic enrollment partner staffed with U.S. based admissions experts, providing customized solutions that deliver a return on investment. EducationConnex assists universities across the country by leveraging enrollment expertise and intelligent services, thus improving conversion rates and increasing profitability and retention. EducationConnex provides program-specific, cost-effective solutions for improving prospect conversion and client retention.
For more information, visit http://www.EducationConnex.com
Contact
EducationConnex, LLC
Jeff Swinhart
Senior Vice President
802-458-0075
jswinhart(at)educationconnex(dot)com
WebWise Tutors, LLC
Bill Apablasa
Marketing Director
855.355.WISE x407
bill.apablasa(at)webwisetutors(dot)com