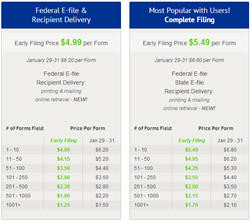 We want to provide our subscribers with the best possible tax time experience possible
Grants Pass, OR (PRWEB) December 10, 2013
This year filing 1099-MISC forms for owners and vendors electronically is simple through Rentec Direct. There's no need to re-enter data or pay a tax adviser to file these forms because it's very simple and extremely cost effective to file them electronically through Rentec Direct. Rentec provides full e-file functionality with the IRS as well as mail out, as necessary, paper copies to the recipients and states.
For full details on how to prepare and execute your 1099-MISC filing please visit Rentec Direct's Blog
1099-MISC Electronic Filing Pricing is handled through an IRS Approved 3rd Party who will bill separately for the service. Prices can be seen on the right and vary from $1.25 - $6.80 per form.
Every working American has to file taxes and for property managers and landlords it can be a daunting task. "We want to provide our subscribers with the best possible tax time experience possible," said Nathan Miller, President of Rentec Direct.
To learn more about Rentec Direct or to obtain a 30-day full featured free trial of the software, visit
http://www.rentecdirect.com/
About Rentec Direct
Rentec Direct provides cloud based rental software solutions for property managers and landlords. Other popular solutions offered by Rentec Direct include tenant ACH payment processing and tenant screening, and online syndication of vacancies to more than 20 popular websites.