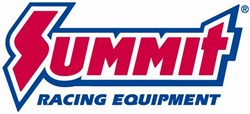 Tallmadge, OH (PRWEB) December 13, 2013
Rejoice, GM owners--more performance is now available for Chevy V8s, GM LS engines, and early GM V8s.
Edelbrock E-force Dual Quad Supercharger Kits
These Edelbrock Dual Quad E-Force Supercharger Kits feature a Roots-style supercharger with Eaton's Gen VI 2300 TVS four-lobe rotor assembly that has a full 160 degrees of twist. This design minimizes air restriction in and out of the supercharger, requires less engine power to operate, and maximizes airflow without heating the incoming air like older Roots designs do. For 1964-86 302-400 small block Chevy.
Summit Racing LS Cams by COMP Cams
These Summit Racing LS custom grind hydraulic roller cams were ground especially for us by COMP Cams—they are not available anywhere else! The cams feature modern lobe profiles that take full advantage of high-flow factory and aftermarket GM LS cylinder heads.
American Autowire Breakerless SE Ignition System
The Breakerless Se Ignition Systems replaces the breaker points guts in early GM distributors with a Hall Effect magnetic setup. Unlike other systems, only the original points wire is visible—no additional wires protrude from the distributor. The result is a state-of-the-art ignition with an absolutely stock appearance.
Summit Racing Equipment
SummitRacing.com
1-800-230-3030