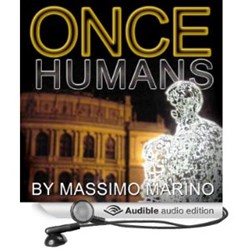 (PRWEB) December 11, 2013
SciFi Publishing is pleased to announce its newest scifi audiobook, "Once Humans", written by bestselling author Massimo Marino is now available on Amazon, Audible and iTunes. http://amzn.to/1aPlLVk
About Once Humans
Mankind is undergoing rebirth, the new arrivals closely watched by the Selected: the transgenic beings created by the Moîrai. The new communities thrive with the aliens' support and peace and security reign on Eridu, as the planet Earth is known by the Moîrai and in the galaxy. But peace and security of the cradle are suddenly shattered by acts of sabotage set to disrupt the fragile balance of the fledgling communities.
From the coldest climes to the deepest ocean floors, a cosmic conspiracy full of betrayal and fear is being hatched with the hope of pushing the world perilously close to the brink of self-destruction. It is up to Dan Amenta to journey through dark and deadly alleys--even into the depths of the planet--to unlock the shadowy logic of alien minds.
"Once Humans" starts seven years after the events narrated in "Daimones", Vol.1 of the homonymous "Daimones Trilogy". The story is a 'loss of innocence' for Dan and for the Selected. The events and the emotional trauma prepare the race of man to reclaim its place in the galaxy.
What People are Saying
5.0 out of 5 stars "Powerfully written!"
5.0 out of 5 stars "While the first book was awesome, with this second one you have raised the bar to an incredible level!"
5.0 out of 5 stars "Riveting. I felt a connection with the characters."
5.0 out of 5 stars "Marvelous!"
5.0 out of 5 stars "Better than the first!"
5.0 out of 5 stars "Love it!"
The Daimones series has been ranked:
#1 in Aliens First Contact
#2 in End of the World, behind "The Road" and in front of "The Stand"
#3 in Apocalypses and Dystopia, behind "The Stand" and in front of "The Hunger Games"
in Goodreads Listopia
About the Author
Massimo Marino comes from a scientist background: He spent years at CERN and The Lawrence Berkeley Lab followed by lead positions with Apple, Inc. and the World Economic Forum. He is also partner in a new startup in Geneva for smartphone applications: TAKEALL SA. Massimo currently lives in France and crosses the border with Switzerland multiple times daily, although he is no smuggler. Feel free to connect with him at https://www.facebook.com/massimo.marino.750546.
About Sci-Fi Publishing
Sci-Fi Publishing enables authors to bring their work to life, creating powerful audiobooks for Science Fiction and Fantasy fans. We partner with authors from audiobook production to marketing so they can continue to focus on their passion, creating new and amazing worlds.
For more information about us and to discover other great scifi audiobooks, visit us at either http://www.scifi-publishing.com or http://www.scifi-audiobooks.com.