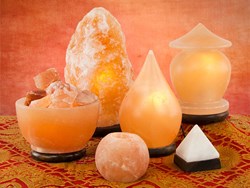 Colebrook, NH (PRWEB) December 10, 2013
During the holiday season, many groups take part in gift exchanges or "secret Santa" programs, where names are drawn out of a hat for a gift exchange. Although this can be fun, it can also be stressful if you are unsure of what the person might want.
Gift exchange rules tend to have low price limits and it can be difficult to choose something that is inexpensive, but still nice. Over time, it becomes more challenging to give something different that hasn't been seen before. No one wants to give gifts that go unused or are easily forgotten.
For that reason, the New Age Source, a premier Metaphysical retail shop has compiled a list of ideas for inexpensive gifts that are high-quality and totally unique.
Here are a few of the suggestions for gift exchange items people will love
Salt Lamps: Small salt lamps are inexpensive, beautiful and are good for more than just decoration. Salt lamps in the office help counteract the negative energy given off by electronics that can sap your energy and lead to fatigue. Placing a salt lamp in the workspace can improve energy and it also helps cleanse pollutants and allergens from the air. Salt lamps come in a variety of shapes, sizes and styles.
Soapstone Carvings: Consider a soapstone carving of a co-workers favorite animal. This craft dates back over 3,000 years. The carvings are beautiful and intricate, making a beautiful gift that is an excellent conversation piece as well.
Perpetual Calendars: Stone calendars never need to be replaced. They are a useful long-lasting gifts anyone would enjoy. They look great displayed on a desk and add beauty and function to the workspace.
These are just a few of the ideas shared by the New Age Source. Learn more by visiting them at http://www.thenewagesource.com.
About the New Age Source
The New Age Source is a top supplier of Metaphysical and New Age products from around the world. Many of their items are exclusive, ensuring a truly unique purchasing experience.