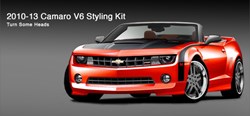 Extreme Dimensions has more body kit products than any other company I know of.
San Diego, CA (PRWEB) December 09, 2013
Extreme Dimensions, manufacturer of numerous a high quality body kits has announced that Custom Auto Trim (CustomAutoTrim.Com) has reunited with one of their old partners Custom Auto Trim. In fact they have always been one of Extreme Dimensions largest distributors. Bringing these companies both back together is really a big benefit for all retail consumers.
"Extreme Dimensions Body Kits are one of the best quality body kits on the automobile aftermarket. The number of styles and applications that Extreme Dimensions offers overshadows the competition. We love offering this product line to our customers. Extreme Dimensions has more body kit products than any other company I know of," says Mike Briglia, president and head of the company's online store CustomAutoTrim.Com.
"Extreme pretty much fills every gap or hole in the body kit market. A lot of companies either just have body kits that fit newer cars, and other companies cover just older cars, but this company covers both new and old. Not only just for cars, but their products cover the truck and SUV markets as well," Briglia said.
There are plenty of testimonials that can be found on the company website (http://www.customautotrim.com) that will support claims of good customer service, while other customers cite the company's exceptionally large inventory of top quality products as a major draw. Such auto and truck accessories as body kits, rear spoilers, truck graphics and Stainless Nerf Bars are among the company's most popular products.
Founded in 1997, Custom Auto Trim has been a premier global supplier of car and truck accessories, and serves many industries. Some of their products can be found at local car dealerships including body side molding, truck decals and stainless Rocker Panels for both trucks and SUV.
For more information contact Custom Auto Trim and Graphics Inc., 4747 Morena Blvd., Suite 355, San Diego, CA 92117. 858-273-5700. http://www.customautotrim.com