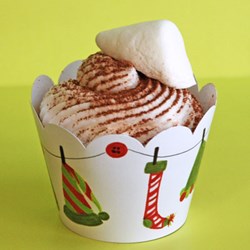 The company's blog is a party planning resource for all types of occasions
Fort Collins, CO (PRWEB) December 10, 2013
The Confetti Couture blog provides the average hostess with stunning party plans that are easy to pull off. Helping a hostess look like they hired an event planner, the company's Cozy Christmas party ideas give the hostess an easy to follow plan, including recipes, tutorials, and decorating ideas to make hosting a stunning soiree... a piece of cake. The party company organizes the ideas into blog posts that cover each aspect of throwing a party. They provide tips and fantastic photos to bring the ideas to life for the hostess.
The Confetti Couture Cozy Christmas Party ideas are simple to execute and require common ingredients, supplies, and tools. Welcoming decorations and a warm-the-soul party food menu make for an effortlessly amazing gathering. The Christmas party plan includes a free downloadable template for creating classy but cozy candles and Christmas tags that work for gifts or party favors. Confetti Couture has made it their mission to make it easy for a hostess to throw a fabulously creative party, even on a budget. Confetti Couture coordinates the Christmas party ideas, tutorials, and recipes, as well as giving the hostess links for finding the party supplies she needs.
The company's blog is a party planning resource for all types of occasions from birthday parties and holiday parties, to bridal showers and baby showers. The well designed website allows a hostess to quickly navigate and find a party plan to suit a specific occasion. Confetti Couture, the "Virtual Party Planner," brings professional party planning within reach for any hostess.
About Confetti Couture
Confetti Couture is an innovative manufacturer selling unique party supplies and bakery goods focused on the modern hostess. Offering an array of products that give the hostess a sophisticated, but playful edge on entertaining, Confetti Couture's hand designed art is what sets their products apart from the usual and expected party goods and brings personality to the party. The Confetti Couture website is a complete and creative planning resource for hosting a wedding, party, or any other event. http://www.confetticouture.com/.