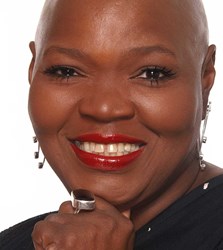 I am passionate about creating beautiful Art-to-wear for personal adornment.
New York, New York (PRWEB) December 17, 2013
The American Jewelry Design Council's free showcase of 25 years of outstanding jewelry design at the prestigious Forbes Galleries in New York has been drawing a host of budding and accomplished designers, art and craft creators and the merely curious.
Located in the Forbes Magazine Building at 60 Fifth Ave., at the corner of 12th Street, the exhibition, "Variations on a Theme: 25 years of Design from the AJDC" opened on Saturday, September 21, 2013 and will run through February 22, 2014. Participation in the exhibit is by invitation only and based upon having a reputation for distinctive style, creativity, originality and excellence in design.
Sandy Baker, one of the foremost names in American fine and fashion jewelry, is showing works in gold, silver and precious metal combinations. Ms. Baker was the first African American admitted to membership in the AJDC. She was also the first African American to have her jewelry designs sold on television, and to exhibit goods of her own design and manufacture at national and international trade shows.
Sandy Baker started creating jewelry in high school, gathering inspiration from Harlem to Greenwich Village, and then studying her craft in college and post graduate courses, She states, "What I saw in the market place was generally boring and unexciting, so when I entered the industry my goal was to create mini-sculptures that could be worn comfortably."
Sandy Baker's jewelry has been displayed at the Studio Museum in Harlem and can be found at the National Ornamental Museum, Carnegie Museums, Georgia O'Keeffe Museum and other notable art institutions around the country. You can view her work at: http://www.sandybakerjewelry.com.
On view at the Forbes Galleries is a selection of works from various annual AJDC Design Projects from the very first theme in 1996 to the most recent in 2013. Annually, the council asks each of its members to create a design project, interpreting a single concept or theme: the final product is a collection of unique jewelry pieces joined by a solitary concept. Past themes include simple conceptual elements such as: "Wheel", "Mask", "Pyramid" and "Flight" imagined into breathtaking masterpieces made of precious metals, gemstones and unexpected materials.