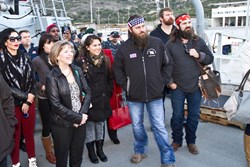 'This has been a life-changing experience and I'm just excited to bring smiles to these troops who are so far from home,' said Willie Robertson. "I'm trying to shake as many hands as I can and say thanks to all of those who sacrifice so much."
Arlington, VA (PRWEB) December 10, 2013
Twitter Pitch: @Martin_Dempsey leads @the_USO holiday tour featuring @Nationals Adam LaRoche, @theycallmeBK, Matt Light, @nephewwtommy, @jepDuckman, @williebosshog & @alisonhaislip
General Martin Dempsey wraps up the first leg of his seven-day, four-country USO holiday tour featuring Washington Nationals infielder Adam LaRoche, Grammy award winning singer/songwriter Bridget Kelly, former New England Patriots offensive tackle and three-time Super Bowl champion Matt Light, actor/comedian Thomas "Nephew Tommy" Miles, stars of A&E's hit reality show "Duck Dynasty" Jep and Willie Robertson, and former NBC "The Voice" correspondent Alison Haislip. Continuing a long-standing USO holiday tradition, General Dempsey and his group of familiar faces are actively entrenched in the tour's second phase.
DETAILS:

Two days into their moment-filled USO holiday tour, the group has visited one of five military bases and lifted the spirits of more than 1,400 servicemen and women. In total, the group is scheduled to perform five USO shows.
The Chairman's seven-day, four-country USO tour is designed to deliver a much-needed break to Marines, airmen, soldiers, sailors, Coast Guardsmen and civilian employees currently deployed or stationed overseas during the holidays. Much like past years adventures, the 2013 USO holiday tour is comprised of USO performances, hospital visits, meet & greets and worksite base visits - all designed to create memorable moments for America's troops this holiday season.
This trip marks the third USO holiday tour led by General Dempsey, the second USO experience for Miles, who traveled on General Dempsey's first-ever USO holiday tour in 2011, and the first tour for LaRoche, Kelly, Light, the Robertson brothers and Haislip.
An infielder for the Washington Nationals, LaRoche was born into a lineage of talented athletes with his father, Dave, a relief pitcher in the majors from the 1970s to the early 1980s, and his brother, Andy, the third baseman for the Toronto Blue Jays. Considered one of the best first basemen in the majors, LaRoche ended the 2013 season with 20 homeruns. Off the diamond, LaRoche is an avid fisherman, hunter and golfer. He is also founder/co-owner of Outdoor Channel's hunting show, "Buck Commander."
Penning the Kelly Clarkson hit single "Einstein" off Clarkson's "Stronger" album, Bridget Kelly earned her first Grammy Award in 2013 when the album won Best Pop Vocal Album at the 55th Annual Grammy Awards. A native of New York, the songstress signed with Roc Nation in 2010 and just wrapped up a five-city Evolution of Smooth Tour with RocNation mates Melanie Fiona and Elijah Blake. Teaming up with Kendrick Lamar on the hit single "Street Dreamin," Kelly will release her six-track "Cut To…Bridget Kelly" EP on December 10, available exclusively via Spotify. "Cut To Bridget Kelly" will be available for free download from BridgetKelly.com on December 17.
Born in Greenville, Ohio, Light started playing football as a young kid and later earned a scholarship to Purdue University. Drafted out of college in the 2nd round by the New England Patriots in 2001, he went on to make football history – making five Super Bowl appearances, winning three Super Bowl Championship rings and earning three trips to the Pro Bowl over the course of 11 seasons. Retiring from football in 2012, he and his wife founded The Light Foundation – a nonprofit that helps at-risk youth from across the country get on the path to success.
Actor, comedian, producer and entrepreneur, Thomas 'Nephew Tommy' Miles is a man of many talents who has built a career that encompasses radio, television, film and more. The co-host of the nationally syndicated "Steve Harvey Morning Show," Miles entertains more than eight million listeners daily with his comedic antics and colorful characters.
The beloved sons of 'Phil' and 'Miss Kay' on A&E's hit reality series "Duck Dynasty," Willie and Jep Robertson have won over the hearts of millions with their unique brand of family values, downhome humor and southern charm. Together, the bearded bayou brothers (and Robertson clan) have made "Duck Dynasty" the most-watched nonfiction show in cable history. What began as a business inside the family shed, the Robertsons have transformed into a multi-million dollar sporting empire with Willie, the CEO of Duck Commander and Buck Commander and New York Times bestselling author, at the helm.
Born and raised in New Jersey, Haislip is the former host of G4's "Attack of the Show" and "American Ninja Warrior." Having served as the first ever on-air social media correspondent on NBC's "The Voice," she can now be seen as a series lead in Hulu's first original series "Battleground" as well as Hulu's daily show "The Morning After." Acting since she was 12, Haislip's other television credits include Showtime's "Shameless," TNT's "Franklin & Bash," MTV's "Zach Stone is Gonna be Famous," VH1's "I Hate My 30s" and Comedy Central's "Reno 911!"
QUOTES:
Attributed to Adam LaRoche:
"The tour has been incredible so far and I'm proud to be able to bring some holiday cheer to our service members. I've gotten so much more out of meeting these brave men and women than they could ever get from meeting me."
Attributed to Bridget Kelly:
"As a native New Yorker, I have a profound respect for our servicemen and women. Their dedication and courage make me proud to be American. I'm honored and excited to be traveling with the Chairman and the USO on this holiday tour."
Attributed to Matt Light:
"This is the first chance I've ever had to go overseas to see firsthand what our service men and women face every day. Most Americans see what they go through on TV or hear from other people, but to actually go over there and see their day-to-day life is something that I'm really looking forward to. We're going to go over and bring a little bit of back home to them by sharing some stories and laughs, and try to lift their spirits."
Attributed to Thomas Miles:
"I love making people laugh but it is no laughing matter when it comes to our troops and what they do for us everyday – sacrificing time away from their loved ones, missing out on the holidays and working around the clock to protect us. Chairman Dempsey is an amazing man with a profound amount of responsibility and I had a blast making every moment count with troops on his USO holiday tour."
Attributed to Willie Robertson:
"This has been a life-changing experience and I'm just excited to bring smiles to these troops who are so far from home. I'm trying to shake as many hands as I can and say thanks to all of those who sacrifice so much."
Attributed to Jep Robertson:
"I love talking with the men and women over here. It's just great to get to share our family stories with them and to see them laugh, hopefully giving them a chance to get their minds off being so far from their families."
Attributed to Alison Haislip:
"Going into this, I didn't know what to expect really. The USO tried to prepare me but I had no idea I would feel so full of gratitude. 'Every Moment Counts' is more than just a clever motto and from the moment we touched down overseas we did just that – we made every moment we were with troops important – making them feel appreciated. This was by far one of the coolest trips I have ever taken."
MULTI-MEDIA:
USO Tour Photos: http://bit.ly/IMjWBH
USO Fact Sheet: http://bit.ly/yaebvo
###
About the USO
The USO lifts the spirits of America¹s troops and their families millions of times each year at hundreds of places worldwide. We provide a touch of home through centers at airports and military bases in the U.S. and abroad, top quality entertainment and innovative programs and services. We also provide critical support to those who need us most, including forward-deployed troops, military families, wounded warriors and families of the fallen. The USO is a private, non-profit organization, not a government agency. Our programs and services are made possible by the American people, support of our corporate partners and the dedication of our volunteers and staff.
In addition to individual donors and corporate sponsors, the USO is supported by President's Circle Partners: American Airlines, AT&T, Clear Channel, The Coca-Cola Company, jcpenney, Jeep, Kangaroo Express, Kroger, Lowe's, Northrop Grumman Corporation, Procter & Gamble, and TriWest Healthcare Alliance and Worldwide Strategic Partners: BAE Systems, The Boeing Company, Lockheed Martin, Microsoft Corporation and TKS Telepost Kabel-Service Kaiserslautern GmbH & Co. KG. We are also supported through the United Way and Combined Federal Campaign (CFC-11381). To join us in this patriotic mission, and to learn more about the USO, please visit uso.org.