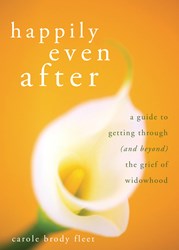 Carole Brody Fleet has fresh things to say about the intricacies of intimacy, returning to the workplace, the grief of children, and remarriage. This book is recommended for its authentic depiction of the widow's experience. – Spirituality & Practice
(PRWEB) December 10, 2013
Carole Brody Fleet, author of Happily Even After: A Guide to Getting Through (and Beyond) the Grief of Widowhood, offers eight tips for enjoying the season when holidays are not-so-happy. For people suffering from depression, or dealing with a breakup, divorce, or loss of a loved one, the holidays can be incredibly difficult. Brody Fleet advises that "if you are coping with any kind of a loss situation, it will be human nature for those closest to you to try and 'jolly' you out of what may be a place of pain or loneliness. Don't feel obligated to be jolly."
Brody Fleet also advocates giving of oneself to others as a way of getting through these difficult times. "We always feel better when we are in service to others." Carole suggests perhaps adopting a soldier for the holidays, or volunteering for an assisted living home, rather than dwelling on personal grief.
What People are Saying about Happily Even After (available in audio)
"Carole Brody Fleet has fresh things to say about the intricacies of intimacy, returning to the workplace, the grief of children, and remarriage. This book is recommended for its authentic depiction of the widow's experience."
—Spirituality & Practice
"Yes, even after the loss of a beloved, when all seems bleak and hopeless, it is possible to find your way out of despair. Filled with compassionate understanding, practical guidance and honest reassurance that a meaningful life awaits, "Happily Even After" is a worthy companion for your journey."
—Judy Ford, author of Every Day Love: The Delicate Art of Caring for Each Other
"Who am I? What do I do now?" Even as these are the two most immediate questions faced by widow/ers, Carole Brody Fleet knows as well as anyone who has faced the abrupt change from couple to single person, those questions multiply exponentially as time goes on. In Happily Even After: A Guide to Getting Through (and Beyond) the Grief of Widowhood, Brody Fleet addresses the most commonly asked questions by widows and those who surround them.
Carole Brody Fleet is a popular motivational speaker who appears before general audiences, corporations, and organizations. A regular guest on local, regional, national, and international media, she lives in Los Angeles.