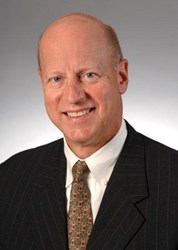 Brian is a dynamic leader who is committed to building on the Chamber's strong foundation of success at a pivotal time in our region's history.
Cincinnati, Ohio (PRWEB) December 10, 2013
The Cincinnati USA Regional Chamber announced today that Brian Carley will become President and CEO in early March, succeeding Ellen van der Horst.
Carley is currently completing his role as a partner at Deloitte and has a 37-year accounting, audit and consulting career. He presently leads the firm's audit practice in Northeast Ohio.
The announcement was made by 2013 Chamber Board Chair Kay Geiger. Geiger said that Carley will assume his role at the country's fifth largest chamber on March 1, 2014, when van der Horst ends an eight-year tenure. Melvin J. Gravely II, incoming Board Chair, headed the search committee that selected Carley from more than 70 candidates.
Carley met the chamber staff today just before the public announcement. "Having the chance to return to Greater Cincinnati and help guide the region through the opportunities and challenges that lie ahead was too good to pass up," Carley said.
"I won't be doing it alone. The Chamber is fortunate to have a talented staff, dedicated Board, and invested community partners who are focused on the Chamber's primary mission—'capturing our place as one of the world's favorite American business centers'. It's that type of collaboration that I will be depending on to continue the undeniable momentum that both the chamber and the region have."
Geiger, President of PNC Bank said: "Brian is a dynamic leader who is committed to building on the Chamber's strong foundation of success at a pivotal time in our region's history. During his time away these last seven years, he has remained connected to our community and understands the landscape and opportunities for our future. His portfolio of experience and collaborative leadership approach will position us to capitalize on the renaissance underway."
"Brian's business acumen speaks for itself, but when we combined that experience with his ability to forge alliances and his passion for this region, he was the ideal candidate," said Gravely, President & CEO of TriVersity Construction.
Gravely added that Carley was also sought after for his significant past commitments to the Cincinnati community over his career. He has served on the boards of Cincinnati Zoo, Cincinnati Museum Center, Good Samaritan Hospital Foundation, Thomas More College, The College of Mt. St. Joseph, and the advisory council to Miami University's Farmer School of Business. Additionally, Carley is more than familiar with the chamber's work, having served as Treasurer for the Board's Executive Committee from 1999-2005.
Carley has offered up several priorities as he starts his tenure at the chamber:
Encouraging continued collaboration between community partners and investors in the Cincinnati USA Partnership, the Chamber's economic development arm, so that the region accelerates its ability to add, retain and grow jobs.
Continuing the chamber's central role in advocacy for business interests at the local, state and federal levels.
Maintaining the chamber's contributions to talent attraction and development.
Guaranteeing high levels of service and programs that contribute to the success of chamber member businesses.
Born in Chicago, Carley paid for his college tuition at the University of Illinois by selling books door-to-door. Upon his graduation in 1976, he began his career with Arthur Andersen's Chicago office. Three years later, he transferred to their Cincinnati office, making partner in 1986. He became a Cincinnati office managing partner in 1997 while also overseeing the firm's global aviation industry practice.
In 2002, he moved to Deloitte's Cincinnati office, where as a partner he concentrated on audit services to a wide variety of regional companies. Asked to lead the firm's audit efforts of a large Cleveland company, he moved to that market in 2006, eventually heading up the firm's audit practice there.
Carley is married with four grown children. Three of his children call Cincinnati home. He enjoys spending time with his family and has remained a Bengals season ticket holder for the last 25 years.
About the Cincinnati USA Regional Chamber:
The Cincinnati USA Regional Chamber is the nation's fifth largest chamber, representing the interests of more than 5,000 member businesses. Its mission is to capture Cincinnati USA as one of the world's favorite American business centers. The chamber serves its membership and the Cincinnati USA community through economic development, government advocacy, festivals and events, regional vision and collaboration, money-saving benefit programs, leadership and networking opportunities and educational programs. For more information, visit CincinnatiChamber.com.