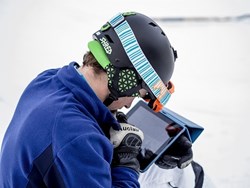 I use Coach's Eye everyday, every run.
Okemos, Michigan (PRWEB) December 10, 2013
TechSmith unveils Team Coach's Eye; Coach's Eye app plays key role in helping athletes be their best when they compete on the World's biggest stage.
The 2014 Winter Olympic Games are just around the corner, and the World's biggest stage is being set. The best winter athletes are preparing to take on the world this February in Sochi, Russia, Team Coach's Eye among them.
Team Coach's Eye consists of world-class athletes that have leveraged the Coach's Eye app as an invaluable training aide for their sport. The team includes:

Patrick Deneen – Freestyle Skier – Olympian and World Champion
Billy Demong – Nordic Combined – Olympic Gold Medalist and World Cup Champion
Heather Richardson – Speedskating – Olympian and Sprint World Champion
Team Coach's Eye has utilized the mobile app over the past few months during training to gain an edge over their competition and will continue to use Coach's Eye throughout the winter sports season. Coach's Eye provides on the spot video analysis that allows athletes and coaches to instantly record and analyze video right on a mobile device. This amplifies learning by instantly reviewing key moments with precise video scrubbing and slow-motion video playback.
"Coach's Eye allows me to review every jump with my coach and make adjustments in real time, "said Billy Demong. "I no longer have to wait until the end of the day to make improvements and that makes a big impact on my training."
Coach's Eye expands on traditional training methods as well. The app creates video analysis that can be distributed in a variety of ways- coaches can share feedback directly with an athlete or make it publicly available for team members to view. Coaches can also simplify remote training by importing other Coach's Eye videos with the tap of a button.
"Coach's Eye is used by most, if not all, freestyle skiing coaches at the World Cup level. It has truly changed the way I work with my coach," said Patrick Deenen. "We are using Coach's Eye all day, every day."
Simple and powerful, Coach's Eye is the number one tool athletes need to perform at the highest level. Stay tuned for more to come from Coach's Eye and the Coach's Eye Team.
###
About Coach's Eye
Coach's Eye has been helping athletes achieve peak performance for over two years, by providing instant video analysis through mobile devices. Coaches and athletes at every level use the app for training, practice and competition with over 25 million videos analyzed. The Coach's App was the #1 paid sports App for over 400 days and has been downloaded in 135 countries. Coaches and athletes can currently take advantage of Coach's Eye on Apple and Android devices, with support for Windows devices coming soon. Stay up to date with Coach's Eye at http://www.coachseye.com or by following @CoachsEye on Twitter.
About TechSmith Corporation
Founded in 1987, TechSmith Corporation provides practical business and academic platforms that can dramatically change how people communicate and collaborate across devices. TechSmith's platforms enable users to work more effectively wherever they may be, and ensures that the process of creating, sharing and collaborating around content is simple and intuitive so that others can learn from their knowledge. Learn more at http://www.techsmith.com and follow @TechSmith on Twitter for the latest news.