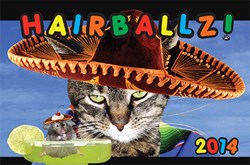 (PRWEB) December 11, 2013
Hairball Designz, LLC entered the global marketplace and has coughed up a winner. The product brand name is Hairballz and their world is refreshing.
The newly launched website offers the artwork of Barbara Clark, owner of Hairball Designz, LLC., a graphic artist/photographer from Schenectady, New York. The fabulous calendar and card line feature Clark's off beat, mildly demented, yet wildly entertaining quips.
Just released 2014 Hairballz Calendar, playfully spits out twelve months of furry fun for everyone. It boasts a cat wearing a sombrero, eyeing a Mousegarita on the cover and a Hairball U graduation on the back. It is available in limited quantity for $14.99 worldwide at http://www.hairballz.com.
There are 36 designs of sweet and hissy greeting cards. Two cats enjoy the Grand Canyon and say "It's not where you go, it's who you go with", while another card comments on a "gift" left in the litter box, with "Thinking of you." Expect the unexpected.
Hairballz offers greeting cards for the left handed. These cards open from left to right and are referred to as Greetings from the South Paw. Intended for left handers, they are perfect for all to give and to receive.
Leave the rat race behind and fall for Hairballz at http://www.hairballz.com.