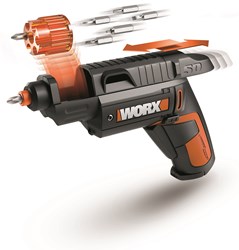 WORX has simplified holiday shopping this year by offering a great choice of innovative tools.
Charlotte, N.C. (PRWEB) December 10, 2013
The whole family will have reason to rejoice when you give the WORX AIR cordless blower sweeper, which comes with eight special-purpose attachments (W545.1, $99.99). WORX AIR is designed to create a clean zone in seconds around the home's perimeter, thus blocking up to 85 percent of dirt that's tracked, blown or carried in through entry doors, garage, patio, deck and workshop.
For example, the AIR Wand functions like an air broom for clearing dust and debris. There's an AIR Dust Brush to clear out cobwebs, patio door tracks and other hard-to-reach areas. An AIR Compact Tube delivers a concentrated air blast for quick clean-ups of campers, tents, patio steps and more. The AIR Detail Nozzle attaches to a flexible AIR Extension Tube for sensitive dust clearing of computers, engine parts and finishing applications. An Inflator Nozzle is ideal for inflating beach rafts, air mattresses and other inflatables, plus a Deflation Cover for removing air for storage.
You don't have to be a Texas Ranger to pack the WORX SD SemiAutomatic Driver (WX254L, $39.98). Instead of firing the real thing, this handy, cordless screwdriver has a six-slot revolving chamber to rotate bits in and out as needed. Shift from slotted to Phillips to Torx® to square-recess bits by simply sliding the top cover back, then forward. There's even a screw-starter bit for drilling pilot holes. A front-mounted LED light illuminates the workspace. The kit includes the SD Driver, two bit cartridges that include 12 hex-shank bits and a 5-hour charger for the 4V lithium-ion, built-in battery.
Give your favorite homeowner the WORX LeafPro (WA4054, $39.99) to lighten the load of annual leaf removal. This universal leaf collection system connects to all major brands of electric and gas blower/vacs. The LeafPro features a 4-inch-diameter adapter/hose that's 8 feet in length. One end of the hose attaches to the vac, while the other end is equipped with an elastic, nylon cover that fits snugly over the rim of a 32 to 55 gallon container, and then is cinch-tied. When the vac is powered on, leaves are channeled directly into the container.
Consider pairing the LeafPro with the TRIVAC 3-in-1 Compact Blower/Mulcher/Vac (WG500.1, $99.99). The TRIVAC's impeller reduces leaves and yard debris into fine, shredded mulch. Its 10-to-1 mulching ratio means that one bag filled by the TRIVAC is equivalent to 10 bags filled by hand. With many municipalities charging homeowners for curbside leaf pickup, the TRIVAC saves money, as well as time and labor.
What ardent yard commando wouldn't want to unwrap the WORX JawSaw (WG307, $99.99) this yuletide? To assure operator safety, the tool's jaw encloses the chain and its teeth hold wood in place. It weighs just 8.1 lbs., and cuts branches up to 4 in. diameter. The saw features Auto-Tension for easy chain replacement/tensioning, plus an automatic oiler system.
All of the WORX tool gifts described above are available at worx.com and retailers such as Lowe's, Walmart, Amazon.com and independent hardware centers around the country.