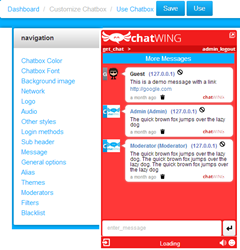 New York, NY (PRWEB) December 09, 2013
According to the recent online study conducted by Chatwing Development Team, social interaction in the chat rooms gained a 45% threshold increase. The study covered a three-week period, with more than ten niches involved. The company's chat software developers believe that this marginal increase is due to the features introduced in the platform specifically Facebook and Instagram login options.
As the company added the Tumblr login feature, many bloggers saw the move as an opportunity to gain exposure for their websites. The Chatwing Database got continuous user influx from the Tumblr community alone. Chatwing developers have also improved the rate of Facebook login method, and this helped users experience less or zero lag times. There is no recorded change in the Twitter login setup, but the developers are also planning to improve that area.
The number of Chatwing chat rooms has also doubled in the past weeks. This created an endless source of discussions from hundreds of niche users. Up to date, Chatwing Team estimates that the active chatrooms are approaching 100. These chatrooms are all focused on different topics such as business, fashion, gaming, Hollywood events, conspiracies, politics, economics, and many more. The chatrooms are also moderated by people from well-known social networks.
With the rate of social interaction going up, Chatwing will create strategies and updates to ensure that users can become more aware of the chat app. To learn more about such strategies, users can take a peek at Chatwing's main Facebook page.
About Chatwing.com
Chatwing.com is a company that has brought innovation to the modern chat widget. Operating for more than five years now, Chatwing and its team of developers have dozens of ideas ready to be introduced to the public. The Chatwing chat app is an easy-to-use online tool that can help web users interact with each other and can also generate continuous traffic. Chatwing will always be a "freemium" application for everyone.