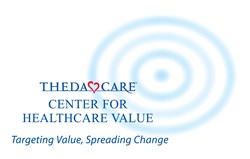 It's exciting to see the transformation as providers compete on quality and price instead of facilities and sales pitches.
West Bend, WI (PRWEB) December 10, 2013
Employers who offer self-insured health plan coverage for their employees will learn how to save 20 to 30 percent on their healthcare costs at a full-day seminar on Tuesday, Jan. 28, 2014. The seminar is sponsored by the ThedaCare Center for Healthcare Value and Serigraph, Inc. It is aimed at executives and managers responsible for healthcare costs and is offered at an introductory price of $400.
"If employers put the right incentives in place, make workforce health a strategic priority and seek out value for episodes of care, they can produce remarkable results," said John Toussaint, MD, CEO of the ThedaCare Center for Healthcare Value, based in Appleton, Wis.
Best practice companies spend between $8,000 to $10,000 per employee, in total health costs, compared to a national average of more than $16,000 per employee. At the "Cadillac" level of $27,500 under the Affordable Care Act, that triggers a 40 percent surcharge on premiums.
"The reductions through innovative management are proven, audited and repeatable," said John Torinus, Jr., chairman of Serigraph, Inc. "The collection of the innovations by private purchasers amounts to a new business model for the delivery of care in America," he said.
The two organizations will run an eight-hour hands-on workshop at Serigraph's global headquarters in West Bend, coaching participants through a new model for managing employee health insurance coverage. Dr. Toussaint and Torinus are the main presenters, along with other executives from Serigraph.
The curriculum will cover:

The race to self-insurance
The movement to consumer-driven health plans
The development of transparency for prices and quality, and centers of value
The shift to proactive primary care in on-site clinics
Payment reforms
Dr. Toussaint and the Center are introducing lean disciplines to the healthcare sector. The Center now has 61 member hospitals, and combined, Center members have eliminated millions of dollars of waste and thousands of defects in medical processes within their organizations. These lean provider healthcare organizations often become "centers of value" sought out by employers seeking high-quality, low-cost healthcare.
Companies like Lowe's, PepsiCo, Walmart, Boeing, SC Johnson and Serigraph steer their insured employees and their dependents to centers of value for elective procedures such as joint replacements and heart bypass surgery. They choose these centers for high quality outcomes and competitive prices.
"It's exciting to see the transformation as providers compete on quality and price instead of facilities and sales pitches," said Dr. Toussaint.
For more information, or to register, contact Marta Karlov, education director at the Center, at 920-659-7472, email mkarlov(at)createvalue(dot)org, or visit createvalue.org.
The ThedaCare Center for Healthcare Value is transforming the healthcare industry to deliver higher value through experiments, collaboration and education that integrates three interdependent components: delivery, transparency and payment. In these areas, the Center spreads learning and accelerates improvement. http://www.createvalue.org.