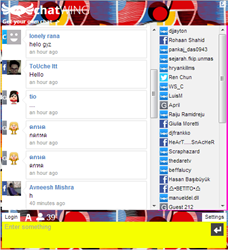 Dallas, TX (PRWEB) December 12, 2013
In order to help more Google marketers take full advantage of the growing niche market, Chatwing Company has launched premium and professional chatrooms. These chatrooms have authentic designs and 'pumped' efficiency, especially in the social networking side. The chatrooms will be introduced in blogs, forums, and other known social communities.
The premium chatrooms are specifically made to help Google marketers to connect with different groups of people. According to Chatwing Team, the chat rooms can also load faster compared to regular ones. The team has also observed that the premium chatrooms can bring up to 60% traffic to any website or blog. For Google marketers, this is another opportunity to expose their products and services.
The Chatwing chat software widget is known for its high-grade efficiency in social networking. Visitors of the chatroom can take advantage of the social media login options: Facebook, Twitter, Google, and Yahoo. In fact, Chatwing developers have observed that dozens of people have been using the chat app for widening their social horizons. To make things better, Chatwing Team has also added the social sharing feature. With this feature, users can share their important conversations to other people. This makes the chatroom more visible, and in turn, brings traffic to the website. The feature can be turned off using a premium service.
Users who are planning to avail the premium chatrooms can expect an affordable deal. More information will be presented in the Chatwing website and Facebook page.
About Chatwing.com
Chatwing.com is a company that has brought innovation to the modern chat widget. Operating for more than five years now, Chatwing and its team of developers have dozens of ideas ready to be introduced to the public. The Chatwing chat app is an easy-to-use online tool that can help web users interact with each other and can also generate continuous traffic. Chatwing will always be a "freemium" application for everyone.