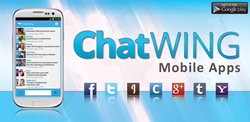 New York, NY (PRWEB) December 13, 2013
In an effort to raise the online awareness of its professional chat app, Chatwing Development Team has announced the top niche contributors. This announcement is based on the short studies done by the company's researchers over a three-week period. The niches have also contributed to the rate of Chatwing registrations.

Technology and gadgets. The technology niche, arguably, is still one of the hottest sectors visited by lots of people. In this niche, people can share about apps, websites, proper website design, e-commerce techniques, widgets, and even tech tutorials. Aside from that, gadget reviews have also become common in the Chatwing chat rooms. Commonly, tech website owner shares information about popular gadgets and visitors will send their remarks.
Gaming. Chatwing chatroom developers have emphasized that the gaming niche contributes up to 25% of chat app registrations per month. The percentage is even rising as the widget becomes more popular in different sectors and communities. Various gaming topics, such as strategies, hints, walkthroughs, and reviews have become good sources of conversations among web users. Game bloggers have also shared their websites in order to gain better exposure rates.
Business. Global chat app studies have stated that business topics will never run out of fuel. One reason attributed to this is the fact that people are having new ideas every now and then. Additionally, consumer demand is affecting the market at a global stage. In the business niche, Chatwing users and visitors tend to exchange data about business start-ups, investments, marketing, and lead creation.
For the next studies, Chatwing chat software will compile another batch of useful niches. By spreading niche information, the team is certain that web users will realize the importance of an embeddable chatroom in the field of online communication.
About Chatwing.com
Chatwing.com is a company that has brought innovation to the modern chat widget. Operating for more than five years now, Chatwing and its team of developers have dozens of ideas ready to be introduced to the public. The Chatwing chat app is an easy-to-use online tool that can help web users interact with each other and can also generate continuous traffic. Chatwing will always be a "freemium" application for everyone.