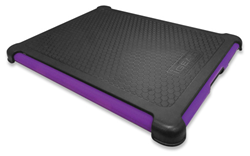 Having been asked by many schools for utmost iPad screen protection, iGear Unlimited is shipping the Hard Cover for the popular STC G3. It provides armour-plate protection for the iPad screen and virtually eliminates broken screens.
Chicago, IL (PRWEB) December 11, 2013
iPads, especially those used in classrooms and by kids, tend to face a lot of wear and tear. They are often in backpacks that are thrown around and otherwise roughed up. Having been asked by many schools for better iPad screen protection, iGear Unlimited set to work creating the new hard cover that works in conjunction with G2 and G3 of their popular Slim Tough Case. It easily clips onto the front of the iPad's Slim Tough Case. This item is a genuine iGear accessory created for the utmost product compatibility, so be weary of imitators that may prove inferior.
Not only does the iGear hard case provide much needed protection to the glass screen, it also works as a tray when removed. Simply clip onto the back and with the Slim Tough Cover's easel back it provides for a convenient tray. The hard cover tray feature can be used in both horizontal and vertical orientations. A full demonstration can be seen here: https://www.youtube.com/watch?v=waxg_efkcrA
Designed with schools' needs in mind, the iPad Slim Tough Case G3 offers proven drop protection of up to 20ft, multi-layer rugged construction in 8 bright colors, and a thin profile designed to fit in virtually any iPad charging cart on the market. It has won the hearts of many schools' technology directors and has recently been voted as the favorite for school deployments. Visit https://www.igearunlimited.com/stcg3 to see the features in further detail.
About iGearUnlimited.com
iGearUnlimited.com is powered by Sunrise Digital, an Inc. 5000 company established in 1988 and employs the most advanced equipment and technology, such as G7-certified HP Indigo and UV flatbed presses, and digital die-cutting, to create best-in-class products. A privately-owned enterprise, the company is based in Chicago and sells products worldwide.