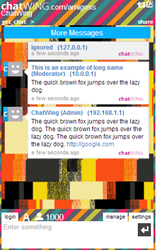 Boston, MA (PRWEB) December 15, 2013
The Chatwing Team has just finished its current round of maintenance checks for the week, and the developers are now eyeing various vacation blogs. Additionally, the chat room team has noticed the circulation of vacation trends in Chatwing chatrooms. The trends are emphasized by the Chatwing Team.
"We noticed that vacation bloggers are sharing quick tips in our chat rooms." Shelly Miler said. She is one of Chatwing's hardworking researchers. "This is useful, especially now that people are looking for ways on how they can have the best vacation moments ever. Once the visitors get the necessary information, there is a chance that they will visit the givers of data. In a way, vacation bloggers will get the needed exposure and web traffic."
Vacation site owners can now take advantage of two new login options—Tumblr and Instagram. These login methods were added by the team to ensure that users will have more social networking choices. This increased the flexibility of the Chatwing chat room app widget by as much as 60%. Vacation bloggers can also offer their deals to Tumblr and Instagram users.
Chatwing's premium features were also re-introduced in different blogging communities. According to many bloggers, the premium features—costing about $1 each—have increased the personalization factor of the widget. This led to higher registration rates, especially from Wordpress, Tumblr, Blogger, and Xanga. Vacation bloggers can rely on premium advantages to secure a better market position for their deals.
Chatwing chat software will continue monitoring vacation trends. Through this strategy, the company can reach out to hundreds of web users in the vacation niche.
About Chatwing.com
Chatwing.com is a company that has brought innovation to the modern chat widget. Operating for more than five years now, Chatwing and its team of developers have dozens of ideas ready to be introduced to the public. The Chatwing chat app is an easy-to-use online tool that can help web users interact with each other and can also generate continuous traffic. Chatwing will always be a "freemium" application for everyone.