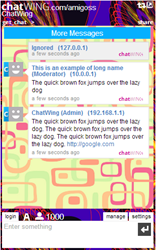 New York, NY (PRWEB) December 16, 2013
New York, NY – As the user influx to the Chatwing database continues to grow, the developers have realized that several enhancements are necessary to make the widget more efficient than ever. These upgrades will be introduced in a matter of two weeks, and the developers expect that the widget will be ready for the holidays. Here are the recent upgrades to the Chatwing website chat software:

Faster Tumblr login. Since the Tumblr login is fairly new, it encountered minimal glitches in the past days. According to the developers, the lags were caused by the continuous usage of Tumblr users. To resolve this, the developers are planning to tweak the login method. In this way, Tumblr users can integrate their blogs to Chatwing chat rooms at a quick pace.
New background themes. Chatwing chat rooms has a wide array of background themes or styles. These styles can be used by the chatroom owners if they are rushing their designs. Based on the feedbacks, Chatwing developers have decided to introduce more themes. Now, the users will have a large repertoire of chatroom styles.
Additional avatars. Chatwing Team has received different requests about new avatars. By improving the platform, chatroom owners and visitors can now use different avatars with pop culture references. The developers will also add holiday-themed avatars.
Chatwing continues to develop the widget to serve more web users in the long run. Information about widget updates will be available in Chatwing's Facebook and Twitter accounts.
About Chatwing.com
Chatwing.com is a company that has brought innovation to the modern chat widget. Operating for more than five years now, Chatwing and its team of developers have dozens of ideas ready to be introduced to the public. The Chatwing chat app is an easy-to-use online tool that can help web users interact with each other and can also generate continuous traffic. Chatwing will always be a "freemium" application for everyone.