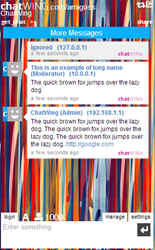 Dallas, TX (PRWEB) December 17, 2013
Chatwing.com is entering a new phase of growth as the company's premier widget is becoming known in the Twitter arena. A week ago, Chatwing developers have discussed the prominence of Twitter trends in the chat rooms. Because of the trend discussions, Twitter users managed to gather useful real-time information. Now, the Chatwing Team is eyeing several business ideas that are circulating in Twitter; these ideas have also reached several Chat Wing chatrooms.

Online products. Entrepreneurs and marketers can now introduce their products through daily tweets. The Chatwing chat room widget has been proven useful in adding exposure to any online product or service. Twitter entrepreneurs can share their products and services in any Chatwing chatroom. Moreover, they can encourage visitors to log in with their Twitter accounts.
Mentoring services. Since information travels fast in the cyberspace, a large percentage of Twitter entrepreneurs have resorted to mentoring tactics. Online mentors often conduct webinars to give insights about their services. Alternatively, they can also offer free reports that can be downloaded anytime. With Chatwing chat software installed, these online mentors will be exposed to large groups of people. Currently, visitors of the widget can choose from several login methods: Facebook, Twitter, Google, Yahoo, Tumblr, and Instagram.
Marketing services. Twitter marketers are also offering their talents at a rapid pace, based on the short study done by Chatwing developers. The marketers can share their tools and promotional videos in Chatwing's live chatroom.
As part of its reliable expansion strategies, Chatwing website chat software is exploring one niche after another. In this way, the company will know what types of enhancements are needed regarding the platform.
About Chatwing.com
Chatwing.com is a company that has brought innovation to the modern chat widget. Operating for more than five years now, Chatwing and its team of developers have dozens of ideas ready to be introduced to the public. The Chatwing chat app is an easy-to-use online tool that can help web users interact with each other and can also generate continuous traffic. Chatwing will always be a "freemium" application for everyone.