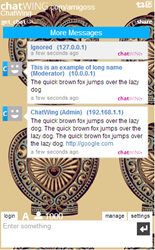 Boston, MA (PRWEB) December 18, 2013
Roleplay bloggers from different parts of the world can now use the latest chat app offered by Chatwing chat software. This embeddable tool, subtly known as "Live Chat 3.5," is capable of enhancing the communication potential of any blog or website. There are numerous functions that can be used by roleplay bloggers.
One of the key factors of the Chatwing website chat rooms widget is social media integration. Despite its simplicity, the widget is capable of reaching users from Facebook, Twitter, Google, and Yahoo. Recently, the developers have added the Tumblr and Instagram login options—maximizing the total reach of the chat tool. The variety of login options has been proven useful for bloggers from different niches possible.
While roleplay bloggers appear second to game bloggers, they still have a large foundation. Roleplay blogging has been in the cyberspace for more than ten years now, spanning different contributions from bloggers and writers. The Chatwing tool can help these bloggers in gathering subscribers and visitors. Once the widget is embedded, it will start creating web traffic at a continuous pace. Users should understand that the traffic will come at a trickle first, and then the influx will grow over weeks of usage.
The customization process of the widget is also flexible. Users can create any chatroom combinations possible, and this can only be done in minutes. There are also preset designs, if ever users want to save more time and start monitoring visitors right away.
In the coming months, Chatwing Team will create more chat room widget enhancements. This ensures the longevity and efficiency of the chat tool for many years to come.
About Chatwing.com
Chatwing.com is a company that has brought innovation to the modern chat widget. Operating for more than five years now, Chatwing and its team of developers have dozens of ideas ready to be introduced to the public. The Chatwing chat app is an easy-to-use online tool that can help web users interact with each other and can also generate continuous traffic. Chatwing will always be a "freemium" application for everyone.