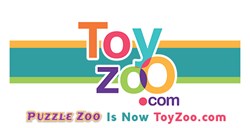 Our goal is to be the most consumer friendly toy store on the internet.
Glendora, CA (PRWEB) December 11, 2013
Just in time for the Christmas shopping season, Southern California based PuzzleZoo.com has evolved into the innovative and beautiful ToyZoo.com. "With over 10,000 toys, our goal was to streamline the entire online shopping process. Starting with how you find and compare toys, all the way through to making the check-out as simple as possible," said Jay Demircift, CEO of Puzzle Zoo.
Featuring an eye-popping website design by RocketWeb Designs, an award winning Magento Partners development firm, ToyZoo.com is aiming to be the most consumer friendly toy store on the internet. Everything about PuzzleZoo.com has been rebuilt from the ground up to offer customers a more engaging and rewarding shopping experience with ToyZoo.com. According to Mr. Demircift "A redesign like this is a major undertaking, but we knew that if we were going to do something to improve the web retail experience, it had to be something major. We've listened to customers and worked with our partners to tailor the new ToyZoo.com to consumers of every type. From those looking for the perfect Christmas gift to serious toy collectors, we've remade our website for you."
ToyZoo.com will continue to carry the brands that made PuzzleZoo.com a popular website with consumers; but it will also introduce many new features to enhance the shopping experience. Alongside the popular toys and brands like Marvel Universe Toys, DC Comics, The Walking Dead, NFL Sportspicks and Star Wars action figures; ToyZoo.com is introducing a bevy of new features, including:

A REWARDS POINTS system where customers can earn points by surfing the website, leaving reviews on the toys they buy, and purchasing products. Points earned can be used to get discounts on future purchases.
A QUICK TOY SEARCH tool where customers can start narrowing down their search with three (AGE, GENDER, PRICE) basic steps. And an intense filtering options on the next listing page.
A MADE IN THE USA TOYS section that highlights toys from the United States.
A JUST FOR GIRLS TOYS page for toys, games and other products made for her.
SEAMLESS SOCIAL INTEGRATION that allow customers to easily "share," "like," "pin" or "tweet"
"When you visit the new ToyZoo.com, you'll see a website that is equipped with all new features that customers are expecting to find plus more. It's easy navigation and fast page-load times combined with an eye-catching design will provide a pleasant user experience to toy shoppers," Mr. Demircift said. Customers can still expect the same great customer service, the same easy returns and the same competitive prices that only a small, family run business can offer. ToyZoo.com is all the best from PuzzleZoo.com wrapped up in a completely modern website.