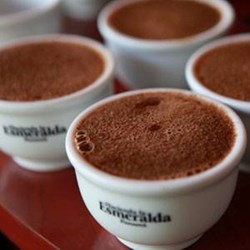 Tucson, AZ (PRWEB) December 10, 2013
If you are a coffee lover, or know a coffee lover, this is the best gift you could get this holiday season! Anna Perriera, Master Roaster at Yellow Brick Coffee, has acquired a small lot of the world's most expensive coffee, Mario Carnaval harvested Esmerelda Gesha. Micro lots of this coffee go for as much as $300 per pound at wholesale auctions, but Perriera is partnering with Maker House to offer 50 Tucsonans the chance to experience this coffee at only $15 for a full 6 oz cup, rather than the $35 a cup normally goes for. The tasting session will occur December 14th, from 10 AM to 12 Noon, at Maker House, located at 283 N Stone Avenue. Parking is free in the Franklin lot, across the street from Maker House.
Traditional, award-winning Esmeralda Special comes from this area known as "Mario". Mario Carnaval is harvested during the month of February. Carnaval has only 8 auction lots (300 lbs. each). The Esmerelda Gesha coffee for the tasting on Dec 14th is from the Mario micro-lots. This the micro-lot that sets price records and wins awards.
The process Perreira uses to roast this bean brings out the coffee's lush floral-toned aroma and flavors of chocolate, sweet lemon and stone fruit. Maker House's award-winning barista, Allie Holler, will pour over and hand brew each cup of this very rare, award-winning coffee.
The tasting will be accompanied by a lecture by Master Roaster Anna Perriera, who will discuss the farm where the bean is grown, the coffee itself, and her roasting process.
To reserve your spot at this once-in-a-liefetime tasting, visit: https://www.facebook.com/events/507274672703576.
Members of Maker House will receive a complimentary biscotti, made especially for this event by Le Cordon Bleu trained pastry chef Garst Bavier.
About Esmerelda Special (Gesha Varietal) Coffee: This varietal is grown and produced at Hacienda La Esmeralda by the Peterson Family, in Boquete, Panama. It has been awarded:
-First place in the Best of Panama competitions in 2004, 2005, 2006, 2007, 2009 and 2010.
-First place at the Specialty Coffee Of America Roaster's Guild competition in 2005, 2006 and 2007.
-Received the highest score in Rainforest Alliance Cupping for Quality competition in 2004, 2005, 2007, 2008 and 2009.
About Anna Perreira: Anna is the owner of Yellow Brick Coffee, and one of the few roasters who have access to this award-winning coffee bean. Each bag of bean is micro-roasted on demand, according to the custom roasting profile Anna creates for each and every varietal and crop.
About Allie Holler: Allie is the coffee bar manager at Maker House, and has worked in the coffee and tea industry for almost a decade. Allie got his start in Los Angeles with Peet's Coffee & Tea, winning the Greater LA Peet's Coffee Barista Competition in 2007. He continues to expand on the education and skills that make him one of Tucson's best baristas.
About Maker House: Maker House is the world's first artisan-driven makerspace, and features a coffee, beer and wine bar, along with a gorgeous 5,000 sq ft courtyard and eclectic indoor spaces. It's the best place in town to hear local bands and meet artists, hackers, techies, gaming geeks, crafters and do-it-yourselfers.