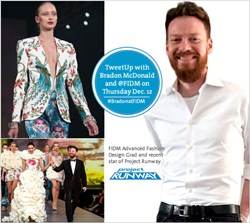 Los Angeles, CA (PRWEB) December 10, 2013
FIDM Grad Bradon McDonald, one of the top five finalists of Lifetime's 12th season of Project Runway, will participate in FIDM's online Q&A Tweetup on On Thursday, December 12 from 12:00-1:30 PST.
As a leading competitor on Project Runway, McDonald won four challenges, proposed to his partner, and demonstrated his innovative approach to couture design with his signature fabric manipulation, embellishment and uncommon hand-sewing techniques. McDonald graduated from FIDM's Advanced Fashion Design program in 2013 where he debuted his first collection at the 2013 FIDM DEBUT Runway Show. Prior to attending FIDM, McDonald spent 14 years performing as a professional modern dancer in New York City with Mark Morris Dance Group.
Participants may follow @FIDM and @BradonPAUL to submit their questions using the hashtag #BradonatFIDM. They can then check back at 12:00 on December 12 to see if McDonald answers their questions.
FIDM/Fashion Institute of Design & Merchandising is a co-educational, specialized, private college dedicated to educating students for the Fashion, Graphics, Interior Design, and Entertainment industries. Known as a one of the top fashion design schools, FIDM is also a leading graphic design school and digital media college. Visit fidm.edu for more information.