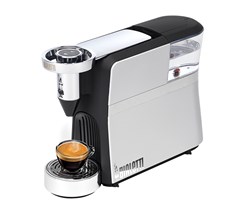 Rancho Cucamonga, Calif. (PRWEB) December 11, 2013
Bradshaw International, a premier marketer of housewares products, today announced that the Bialetti Diva single-serve espresso system has been selected as a finalist in the Countertop Cooking & Beverage Appliances category of the prestigious 2014 Housewares Design Awards.
The Bialetti Diva is in the running for the "Best of the Best" Awards that will be given to the best housewares products of the year at the Gold, Silver and Bronze levels. The Housewares Design Awards is the industry's premier independent awards competition. Winners will be announced at the Housewares Design Awards presentation ceremony and luncheon on Tuesday, February 4, 2014 at the New York Marriott Marquis.
"Being selected as a finalist in the Housewares Design Awards for the Bialetti Diva is a significant acknowledgment of Bialetti's brand mission of manufacturing innovative and functional products," said Jason Vaske, Sr. Product Manager, Bradshaw International. "The Diva is elegant, with a modern design and offers a true Italian espresso experience in a single-serve system. We are honored to receive this acknowledgment from the housewares industry."
With its sleek, space-saving design, the Diva system features a touch-sensitive, swipe-to-brew button for two programmable options: a long or short espresso shot; a 20-bar (290 psi), high-pressure system that ensures the perfect cup of Italian espresso in seconds; and an adjustable height tray to accommodate different sized cups. The Diva also features an auto-expulsion system, eliminating the need to manually remove used capsules after each use as it automatically ejects used capsules into a removable capsule collector. To conserve energy, the system includes an auto-shutoff.
The Diva uses Bialetti's exclusive Italian roasted espresso blends called I Caffè d'Italia packed in recyclable, aluminum capsules that feature 7-grams of espresso which is the ideal amount for a superior brew. More than a beverage, Italian coffee is an experience, and Bialetti understands Italians' love affair with espresso. With five different regional blends that range from mild to extra bold, everyone can find one that satisfies their taste.
The Diva is available at Bloomingdale's nationwide and on bloomingdales.com in black and red for an MSRP of $315. Each machine comes with 10 I Caffè d'Italia espresso capsules to sample. I Caffè d'Italia espresso capsules are also available in packs of 16 for an MSRP of $9.99. For more information, please visit http://www.bialetti.com.
An independent panel of judges selected the Diva as a finalist based on its superior design, appearance, function and originality. The Housewares Design Awards are presented by HomeWorld Business and sponsored by NY Now®, Gourmet Insider Magazine and Whitford Corporation. Product submission and judging process is managed by Housewares Design Awards LLC. For more information, visit http://www.housewaresdesignawards.com.
About Bradshaw International
Bradshaw International is a privately owned company based in Rancho Cucamonga, Calif., with family heritage dating back to 1905. Bradshaw International is a premier marketer of housewares in the U.S., and the largest kitchen gadget supplier in the world shipping more than 150 million pieces annually. Its family of brands span the areas of kitchen tools & gadgets, cookware, bakeware and cleaning products, which includes: Good Cook®, Bonny, Profreshionals™, Bialetti, Oneida®, Betty Crocker®, Butler®, a division of Bradshaw International; Mr. Clean®, Dawn®, and Black and Decker®. For more information about Bradshaw International or its products, please visit http://www.bradshawintl.com.
About Bialetti
Bialetti is an Italian brand of stovetop coffee makers and cookware products that's bringing a unique combination of current yet accessible Italian design and quality at every price point. Headquarted in Coccaglio, Italy, Bialetti puts a face on the modern Italian's unique approach to life, with a passion for all things good – style & design, food, friends, family and relaxation. Founded in 1933, Bialetti first came to market in Europe as the creator of the "Moka Express." Today, the company offers an Italian-inspired line of cookware, kitchen tools and gadgets, as well as its wide-range of stovetop coffee makers.
Bradshaw International is a leading marketer of kitchenware products and is the distributor for Bialetti USA.
For more information about Bialetti and its products, please visit http://www.bialetti.com or find us on Facebook at http://www.facebook.com/bialettiusa.