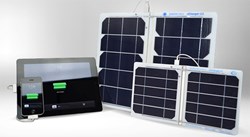 San Jose, CA (PRWEB) December 10, 2013
Suntactics is the only portable energy company that manufactures in the United States and it uses the highest-quality materials to ensure long life and efficiency. There are many solar chargers out there that are gimmicks, plastic trinkets that end up as expensive paper-weights, Suntactics is different, it is all about quality craftsmanship with this company.
Suntactics is the only portable solar energy company that is committed to solar charging 5-volt USB devices, others are not, Suntactics has perfected and optimized it's solar panels for optimum efficiency, yet, is so compact and light-weight that it can be carried any where in the world without taking up too much space.
9 reasons why Suntactics is the best choice for your portable energy needs:
Monocrystalline Solar Cells
Suntactics uses the highest efficiency solar cells available in the portable solar charging industry, Grade-A 18% UV absorption rate, (other portable solar panels use Grade-B 14%-16% UV absorption rate or lower).
Optimized Solar Panels
Suntactics has perfected, optimized its solar panels with one goal in mind; charge smartphones, tablets, and other USB devices as fast as possible. Using large solar cells is key to achieving this goal, this means devices will charge lightning fast as more electricity is captured in one cell rather than a string of smaller cells crammed onto one panel. There are many portable solar companies that do this, they even optimize their panels for 12-Volt charging, which requires more wattage, these companies are lazy, so in order to solar charge 5-Volt devices they use an inverter so that they can charge things like smartphones and tablets... the inverter makes the panels less efficient. Suntactics is strictly for 5-Volt devices, no inverter necessary.
Uses External Batteries
Our panels do not need batteries to charge devices, there are many portable solar chargers out there that are just large batteries with small solar cells slapped on the top, basically they're glorified batteries. Do not be fooled by batteries with solar cells on them, most likely they use cheap, low grade solar cells on top of a battery, and batteries will eventually fail, especially when left in the sun for long periods of time. Suntactics can charge external USB batteries, which means the user can charge the battery and keep it out of the sun, and if the battery fails it can be replaced because it's not a permanent part of the panel.
Direct Charging
Unlike battery solar chargers, there's not wait-time! Directly charge anything with the sun immediately without having to wait for the solar charger's battery to charge. Suntactics' biggest model (the sCharger-12) can charge a USB battery and a mobile device at the same time, so the user could have a fully charged phone and a fully charged battery for that extra power at night.
Standard "A" USB Port
Suntactics uses standard "A" USB port, which means no fussing with extra charging connector tips and extra adaptors. Do not purchase a solar charger with a micro USB port, micro USB ports are very delicate and are easily prone to damage from jolting and jostling movement. Portable solar chargers that use connector-tips are also prone to problems, the slightest movement of the panel or device will stop-and-start charging which can get annoying especially when on-the-go. Standard "A" connectors are strong, fit snuggly and will not stop-and-start a charge even with the heaviest movements.
Auto Retry Technology
Suntactics also has a great feature that no other portable solar charging company has, "Auto-Retry", it's a feature which allows the device to continue to charge even if it comes in contact with shade and other disturbances like clouds. When any portable solar charger is blocked from the sun momentarily, it will stop charging and stay off even if it comes in contact with the sun again, auto-retry corrects this issue and it will automatically restart every 5 minutes to make sure charging goes uninterrupted.
Extremely Durable
Suntactics panels can withstand below freezing temperatures, or heat reaching 160°, they'll still work as intended. They are meant to last a lifetime outdoors, if the panels come in contact with water, dust, sand, dirt, or any other element, they are well protected. The entire solar panel is covered in laminate, protecting the solar cells and circuitry. The USB port is also water resistant, just shake off any water inside the port and let it dry before using again.
Easy to Use
The most simple portable solar panels are ones that don't need batteries, they don't need extra plugs or adaptors, just plug and charge. Simply unfold the solar panel, face the solar cells directly towards the sun, plug in the charge cord that came with your mobile device, and get ready to start charging instantly.
Made in the USA
Suntactics was founded in 2009 in California, the only portable energy company that manufactures in the United States (specifically in Milpitas, California). The only way to ensure quality is to keep all manufacturing in the United States, so that they are built by qualified solar panel technicians that build and test each unit to ensure high-quality standards the company expects.
There are so many reasons why Suntactics is the #1 choice for solar charging cell phones and tablets (and other USB devices) it's difficult to list them all. Suntactics also has superb customer service, Suntactics ensures that all its customers are 100% satisfied in every way, if a panel fails for any reason it will immediately be replaced. lTo learn more about the Suntactics company and its products, visit the website; http://www.suntactics.com or call; 1-1-888-308-4786.
Location:
1430 Koll Cir, Ste. 107
San Jose, California, 95112