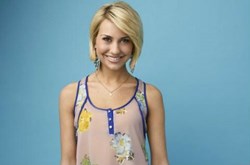 This episode definitely has a little something special: Santa and elves and a little extra pixie dust kind of sprinkled on the episode. It makes you feel real good.
(PRWEB) December 10, 2013
TVRage.com's News Editor Allyson Koerner recently spoke with ABC Family and 'Baby Daddy' star Chelsea Kane about this week's Christmas episode. Not only did Kane reveal details about the festive episode, but what fans can expect, how the cast brings "magic" and "pixie dust" to the 30-minute show, and how she celebrates the joyous season.
Here's an excerpt from the interview:
"TVRage: For those wondering, will be there any Danny, Ben and Riley action, or will that be saved for when the show comes back in January?
Kane: Yeah, that's definitely saved for when the show comes back, because in reality this is just a hiccup episode in the middle of our season. Season 3 picks up the day after Season 2 ends. We didn't really touch on anything that happened at the end of Season 2 [in the holiday episode], because the minute [Season 3] starts, it's me walking into the boys' apartment the morning after the great, big party, and Ben and my first kiss. We definitely saved all the romance for the new season, and it's great.
TVRage: Back to the holiday episode. Are your Christmases anything like Bonnie's? How do you celebrate?
Kane: I always go home to Arizona to be with my family. My mom does remind me of Bonnie, just a little bit, not so much that she's crazy, but she definitely has a huge list of everything we have to do. Usually, [we have] events planned every day, whether it's other Christmas parties, or visiting family, or this, or that. You just kind of show up at home and surrender to whatever mom (laughs) has put on the dance card.
I love the holidays. The holidays for me is always about friends and family and that slight bit of panic, because I'm one of those that waits until the last minute to do any of my shopping or wrapping. So, usually, Dec. 22 or 23, I'm crying in a pile of wrapping paper, like "why do I do this to myself?!" I'm waiting for the anxiety attack that I know I'm going to have. (laughs) … But, then it all comes together Christmas morning, and it's all worth it."
The 'Baby Daddy' Christmas episode airs Wednesday, Dec. 11 at 8:30/7:30c on ABC Family.