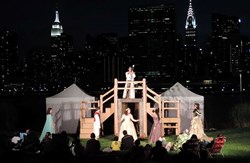 "I wholeheartedly endorse Hip to Hip's belief that great plays and great performances can change lives," said Gabourey Sidibe.
New York, NY (PRWEB) December 10, 2013
Hip to Hip Theatre Company, now in its 8th season of touring free, family-friendly professional theatre to public parks in underserved communities, announced today the appointment of Gabourey Sidibe to its Board of Directors.
Gabourey Sidibe made her acting debut in the 2009 film Precious, a role that brought her a nomination for the Academy Award for Best Actress. Since this breakout performance, Gabourey has worked nonstop in film and television. From 2010 to 2013, she was a main cast member of the Showtime series The Big C, and she is currently in the third season of American Horror Story.
Gabourey is a native of the Bedford Stuyvesant community in Brooklyn; she was raised in Harlem; and her love of acting was born in the Bronx, when she was afforded the opportunity to perform multiple roles in Peter Pan with Lehman College's summer theatre program, Summerworx. Gabourey knows firsthand the value of bringing theatre to the outer boroughs.
"It is a perfect fit, and I jumped at the chance when our Managing Director, Guy Ventoliere, brought the idea to me" said the Artistic Director, Jason Marr. He went on to say, "Gabourey's experience and her integrity as an artist make her ideal for Hip to Hip's Board of Directors, where her unique perspective will have a welcome voice as we navigate the next stage of our development."
"I wholeheartedly endorse Hip to Hip's belief that great plays and great performances can change lives," said Gabourey Sidibe.
Gabourey joins current Board members Nina Szarkowski Jones, Daren Kelly, Jason Marr, Joy Marr and Katie O'Sullivan.
About Hip to Hip Theatre Company
Inspired by the legacy of Joseph Papp's New York Shakespeare Festival, the Queens-based Hip to Hip Theatre Company was founded in 2007 with the aim of producing free, family-friendly, professional productions of popular classics in public spaces. Hip to Hip's flagship program of "Free Shakespeare in the Park" consists of a tour of two professional productions to twelve parks, with an emphasis on outreach to underserved and underprivileged communities. Hip to Hip provides its beneficiaries with a total theatre experience, including great plays, professional actors, sets, lights and costumes.
In the summer of 2013, Hip to Hip launched a brand new children's program called "Kids & the Classics". The program was so successful that it will return in 2014. "Kids & the Classics" is offered before every performance, and it gives children of all ages a taste of the magic of live theatre by introducing them to classical text and performance.
http://www.hiptohip.org
Contact Director of Marketing: Dawn Clarke at Dawn(dot)Clarke(at)hiptohip(dot)org or (646) 418-9997