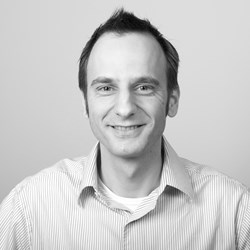 Durham, NC (PRWEB) December 10, 2013
Jacco van Rheenen, Ph.D., of the Hubrecht Institute in The Netherlands has been named the winner of the 8th Annual STEM CELLS Young Investigator Award for his investigation on how healthy and tumorigenic tissues are derived from and maintained by cancer stem cells, how tumor cells disseminate from primary tumors and how these disseminated tumor cells grow out in distant organs.
The STEM CELLS Young Investigator Award honors a young scientist who is a principal author of a significant research paper published in STEM CELLS. Dr. van Rheenen was selected as this year's winner for his paper, "Brief Report: Intravital Imaging of Cancer Stem Cell Plasticity in Mammary Tumors."
"This prize does not only inspire me to keep doing this type of research, but it inspires and acknowledges all the people in my lab who worked very hard on this project," said Dr. van Rheenen.
Dr. van Rheenen and his team developed and utilized the latest imaging techniques to visualize the adaptive properties of the few cells within the large population of non-metastasizing and differentiated cells that might maintain the heterogeneous tumor and metastasize.
"There are still many questions about how breast cancers evolve over time and how cancer stem cells may be involved. The outstanding study by Dr. van Rheenen's laboratory demonstrates unequivocally, for the first time, that a small fraction of breast cancer stem cells are responsible for clonal expansion to not only generate the differentiated tumor but also to replicate themselves. The use of the confetti colors to perform the lineage tracing in this study is truly elegant, and I congratulate our Young Investigator Award winner on this important accomplishment," said Jan A. Nolta, Ph.D., Editor of STEM CELLS.
###
________________________________________
Full Citation:
Zomer, A., Ellenbroek, S. I. J., Ritsma, L., Beerling, E., Vrisekoop, N. and Van Rheenen, J. (2013), Brief Report: Intravital Imaging of Cancer Stem Cell Plasticity in Mammary Tumors. STEM CELLS, 31: 602–606. doi: 10.1002/stem.1296
Paper URL: http://onlinelibrary.wiley.com/doi/10.1002/stem.1296/abstract#fn3
About the Author:
Jacco van Rheenen was originally trained in a variety of imaging techniques during his PhD with Dr. Kees Jalink at the Netherlands Cancer Institute. He was among the first to optimize imaging and develop software to quantitatively measure FRET on confocal microscopes. During his PhD in the lab of Dr. Jalink and as postdoc in the lab of Dr. Sonnenberg (Netherlands Cancer Institute) he used several microscopy techniques to study lipid signaling in tumor cells. In order to broader his scales, he obtained a KWF fellowship to do a postdoc in the United States in the lab of Dr. John Condeelis. There he extended his imaging experience by imaging mammary tumors intravitally including two-photon microscopy and became an expert in the field of intravital FRET imaging. In 2008 he was appointed as group leader at the Hubrecht Institute, where he utilizes his imaging techniques to visualize processes that are required for the metastasis of mammary tumor cells in living animals. In 2009, he was awared a VIDI grant and a research grant from the Dutch Cancer Society.
More information can be found here: http://www.hubrecht.eu/research/vanrheenen/index.html
About STEM CELLS:
STEM CELLS, a peer reviewed journal published monthly, provides a forum for prompt publication of original investigative papers and concise reviews. The journal covers all aspects of stem cells: embryonic stem cells/induced pluripotent stem cells; tissue-specific stem cells; cancer stem cells; the stem cell niche; stem cell epigenetics, genomics and proteomics; and translational and clinical research. STEM CELLS is co-published by AlphaMed Press and Wiley.
About AlphaMed Press:
Established in 1983, AlphaMed Press with offices in Durham, NC, San Francisco, CA, and Belfast, Northern Ireland, publishes three internationally renowned peer-reviewed journals with globally recognized editorial boards dedicated to advancing knowledge and education in their focused disciplines. . STEM CELLS® (http://www.StemCells.com), in its 31st year, is the world's first journal devoted to this fast paced field of research. The Oncologist® (http://www.TheOncologist.com), in its 18th year, is devoted to community and hospital-based oncologists and physicians entrusted with cancer patient care. STEM CELLS TRANSLATIONAL MEDICINE® (http://www.StemCellsTM.com), in its 2nd year, is dedicated to significantly advancing the clinical utilization of stem cell molecular and cellular biology.
About Wiley:
Founded in 1807, John Wiley & Sons, Inc. has been a valued source of information and understanding for more than 200 years, helping people around the world meet their needs and fulfill their aspirations. Wiley and its acquired companies have published the works of more than 450 Nobel laureates in all categories: Literature, Economics, Physiology or Medicine, Physics, Chemistry, and Peace.
Wiley is a global provider of content and content-enabled workflow solutions in areas of scientific, technical, medical, and scholarly research; professional development; and education. Our core businesses produce scientific, technical, medical, and scholarly journals, reference works, books, database services, and advertising; professional books, subscription products, certification and training services and online applications; and education content and services including integrated online teaching and learning resources for undergraduate and graduate students and lifelong learners. Wiley's global headquarters are located in Hoboken, New Jersey, with operations in the U.S., Europe, Asia, Canada, and Australia. The Company's Web site can be accessed at http://www.wiley.com. The Company is listed on the New York Stock Exchange under the symbols JWa and JWb.