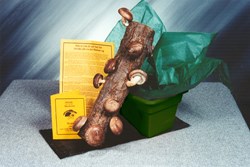 This is one of the most unique items I received, and one that I never even knew existed. This is not only a delicious item to buy for your food loving friends, but could also be great for kids' school projects. Caterina Borg, Good Food Gourmet
Perkins, OK (PRWEB) December 10, 2013
Lost Creek Mushroom garnered a Top Pick in Do-it-Yourself Food and Beverage Kits for 2013 from Good Food Gourmet, Catarina Borg, MBA, Editor and Publisher, announced last week.
"For our shiitake logs to make the Top Ten is a whoopee! celebration and an honor," said Sandra Williams, owner of Lost Creek Mushroom Farm, known as The Mushroom Lady.
The celebration caps Lost Creek Mushroom Farm's 20th anniversary. Sandra and her husband Doug established the farm in 1993 for mushroom production. "We were in a conservative and, at that time, an unsophisticated market. We had 6,000 logs and 3 restaurants – so we designed the log kits. This kind of recognition is a real delight."
Lost Creek's kits have been featured in magazines such as American Health and Martha Stewart Whole Living, and in stores such as Williams-Sonoma and Urban Outfitters' Terrain.
Good Food Gourmet has 25,000-45,000 visitors a week. Ms. Borg strives to provide them with good food ideas and resources. She selected the mushroom log kit for the Top Ten because, "This is not only a delicious item to buy for your food loving friends, but could also be great for kids to participate in for interesting school projects.
"Who would have ever thought that harvesting your own mushrooms would be this easy to do—All you have to do is soak your log in cold water for 24 hours and you will begin to see mushroom growth in 6-10 days. Continue the process and the log will produce mushrooms for up to 4 years. The company uses specially inoculated logs, so there is no fear of poisonous mushrooms!"
Lost Creek Mushroom Farm started as a way to grow something in a greenhouse that would help people, did not harm the environment, and was low technology. "We're very low-tech," Sandra said. "A YouTube video of our inoculation and growing process shows how simple and wholistic our farm really is."
Caterina Borg said in her review, "The great thing about this company is that they donate a portion of their sales to a project that is building mushroom farms in Africa. I love to highlight and support businesses with a social conscious in addition to a great product…This is also a great idea that I will share with parents who are looking for great gifts for their inquisitive kids."
Kits come with a hardwood log ready to grow mushrooms, instructions, and recipes. Kits 9" and over are fully guaranteed. The Shiitake Sampler Cookbook by Janet Bratkovich has 51 shiitake recipes for $7.99 when shipped with a log or $9.95 sold separately.
Lost Creek Shiitake Log Kits include the 6" 'Shroomie for $18, a 10" log for $29.95, two 10" logs in the Ma & Pa Kit for $49.95. The Original Tray Kit has a 14" log with its own tray for fruiting, soaking, and resting for $49.95. The Best Buy, two 14" Original Tray Kits shipped to the same address is $89.95. Prices include shipping.
Online ordering is available at http://www.shiitakemushroomlog.com, by phone at 1-800-792-0053, and at Amazon.com at slightly higher prices.
A portion of sales supports Mushrooms in Ghana Project (video), encouraging and training small-scale mushroom farmers in West Africa to improve production and increase products.