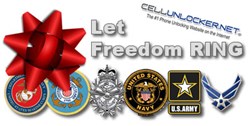 We want to thank our active-duty servicepersons who protect our freedom every day.
Seattle, WA (PRWEB) December 11, 2013
CellUnlocker.net, the world's top phone unlocking website, announced today an offer that provides cell phone unlocking services to active-duty servicepersons of Canadian Armed Forces and U.S. Armed Forces at no charge.
This cell phone unlocking promotion is available to active-duty personnel of Canadian or United States Armed Forces until Dec. 31, 2013. To learn more about this offer or to claim the free cell phone unlocking service, visit CellUnlocker.net/LetFreedomRing.
"'Let Freedom Ring' was launched this holiday season to make it easier for active- duty military personnel to unlock their phones and use a local network service provider while overseas," said CellUnlocker.net CEO David Malka. "This gives these servicepersons a better opportunity to keep in touch with family and friends, abroad."
How it works: a serviceperson visits CellUnlocker.net to choose the model, select the current network service provider and enter the IMEI code, found by entering *#06# using the device's keypad. Then purchase the cell phone unlocking service, email proof of current military ID at promotions[at]cellunlocker.net and CellUnlocker.net will refund the fee.
We can help to unlock Samsung, LG, BlackBerry, iPhone, Motorola, Sony or any other qualified handheld device. Please note, due to the legislation passed by the Library of Congress for the Digital Millennium Copyright Act (DMCA), we are forbidden to unlock USA devices that were manufactured on January 26th, 2013 and later. This is not applicable to devices purchased from carriers outside the USA. Limit one free phone unlocking service per military ID.
"We want to thank our active-duty servicepersons who protect our freedom every day," said CellUnlocker.net's Josh Carr. "Hopefully this gives them a little more freedom to call, text or email the people they care about most, especially over the holidays."
For additional information, view our free unlocking services promotion announcement.
CellUnlocker.net is the number one cell phone unlocking website on the Internet. Our top-rated customer service provides quick, easy and legal services to unlock phones, allowing you to easily use another network service provider—anywhere in the world.