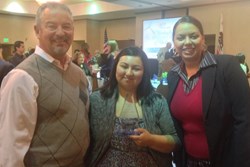 Riverside, California (PRWEB) December 10, 2013
At this year's Association of Fundraising Professionals, Inland Empire chapter National Philanthropy day luncheon, THINK Together volunteer, 19 year-old Ashlee Gonzalez, was awarded Youth Volunteer of the Year.
Gonzalez contributed more than 1,500 volunteer service hours in the four years she has been involved with the extended learning time program.
She is a second year student at San Bernardino Valley College. She became a volunteer four years ago when she was a junior at Colton High School.
Gonzalez chose to volunteer at Birney Elementary's THINK Together program because it was the school she attended as a little girl. She originally came to THINK Together to volunteer the 15 hours required by her Advancement Via Individual Determination class (AVID) but she quickly became purpose-driven through her volunteer experience and decided to continue her service.
Helping students succeed academically is Gonzalez's main volunteer role. During homework, she supports students in math and reading, she also works one-on-one with students who are struggling the most.
"One of my biggest accomplishments thus far is seeing kids improve their reading skills over the years that I have worked with them," Gonzalez said.
Within Gonzalez's first week as a volunteer, she realized that the kids really benefited from her support and that as a volunteer, she was gaining valuable experience that would be extremely useful for her in the future.
Gonzalez hopes to transfer to Cal State Fullerton next year and pursue a teaching degree, she has wanted to become a teacher since she was 8 years old.
About THINK Together
THINK Together is a nonprofit education organization that partners with schools and school districts to support systems, mostly for low-income students, in order to close the achievement gap and has grown into the state's largest provider of Extended Learning Time programs, (early literacy, after-school, summer learning, etc.). THINK Together currently serving more than 100,000 students at more than 442 locations across 41 school districts from San Diego to Sacramento. Partnering with school administrators and teachers, its academic programs and dedicated team of 3,000 employees are helping students close the achievement gap. THINK is an acronym: Teaching, Helping, Inspiring & Nurturing Kids. For more information, call (888) 485-THINK or visit http://www.THINKtogether.org.
# # #