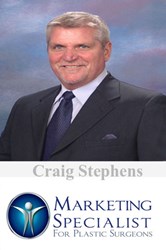 You are a Plastic Surgeon. Let me help you promote your name as a local expert in Plastic Surgery in all the media channels. I'm Craig Stephens, a Plastic Surgeon Marketing Specialist.
Key Largo, FL (PRWEB) December 11, 2013
Craig Stephens, the founder and CEO of Marketing Specialists for Plastic Surgeons, will introduce a new campaign targeting people that have never before received a plastic surgery procedure, but might want one if certain criteria were met, such as price and recovery time. The campaign will target patients within a 50 mile radius of the surgeon and use testimonials, feedback and reviews to grow the surgeon's clientele.
"The plastic surgery industry is filled with people who have considered getting plastic surgery but, for one reason or another, simply won't go in for a consultation," said Stephens. "The people I've spoken to are sometimes afraid, sometimes worried about money, and, even more common, simply can't take the time off from work. We want to provide the impetus to get these people engaged and saying it's possible."
The new campaign will feature a contest that awards a plastic surgery procedure to someone in the doctor's local market. The winner will be the contestant that sends in the most compelling story as to why they would like the procedure done, and why they haven't received one in the past. Stephens believes that the content is a win/win for both the contestants and the surgeon.
"The contestants will have a chance to tell their own personal story as to why they haven't taken the next step," said Stephens. "And who knows? Maybe there can be more than one winner, depending on what the doctor considers to be the best stories. More important, the doctor can contact many of these contestants and begin a consultation process that could lead to even more new patients."
Stephens says that the contest asks applicants to tell the surgeon why they have not had the procedure performed so far, which will allow the surgeon to offer alternatives that the patient may not have been aware of. In an additional step that will help patients discover new and more affordable procedures, Stephens has opened a new forum called talkingplasticsurgery.com. Stephens hopes that the forum will become the go-to place to find answers to plastic-surgery-related questions.
Stephens also added that in a recent survey of what is referred to as "non-customers" in the plastic surgery niche, it was revealed that a majority of those surveyed did not know that plastic surgery procedures have become more affordable and that recovery time has been drastically reduced in recent years. "This is exactly the kind of results that we want to change," said Stephens. "And the contest and forum are a great place to start."
About Marketing Specialists for Plastic Surgeons:
Florida-based Marketing Specialists for Plastic Surgeons is a company directly involved in developing marketing techniques for both the cosmetic and plastic surgery industries. The company is owned and operated by Craig Stephens.
For further information,please contact Craig Stephens at: replies(at)freeplasticsurgerycontest(dot)com