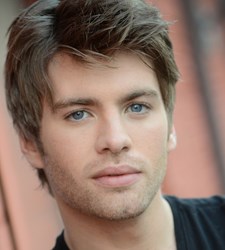 "...a real musician's producer." - David Mark Smith – Global Musicians Fish Pond – March 2013
Los Angeles, CA (PRWEB) December 10, 2013
Singer-songwriter/musician/producer/actor Matt Kabus has spent the last year in Los Angeles making some serious noise in the world of music and animation. He recently released a holiday, animated music video on YouTube for his song "December Moon." The proceeds from YouTube advertisements will benefit Unite4:Good. On December 10 the accompanying single is being released on iTunes.
The "December Moon" animated music video was born out of a synchronistic collaboration with his next-door neighbors, Ted and Doug Distel, who are professional animators. From the start of the project through completion, they combined creative energies to bring this vision to life, and with it can make a real difference in people's lives with the aid of Unite4:Good.
Kabus, 24, has also recently appeared on the CW's new series The Originals as Sean O'Connell. His recently-released his EP "Wide Awake" was featured on the front page of iTunes. Matt wears a lot of hats in the entertainment field, lending a great deal of time and effort towards charitable projects including Rally Organization, aid to Boston Marathon Bombing victims and the ALS Association. On that note, Matt will be contributing all proceeds from his upcoming single "Lily's Song" towards Rally in efforts to raise funds for pediatric cancer research.
"…an accomplished guitarist, pianist and vocalist, Kabus lures his listeners with an intimacy of subconscious sincerity."
Paley Martin - Art Nouveau Magazine Feb 2012.
"December Moon" is now available through Wrought Iron Records on iTunes and Amazon.
For more information, please visit: MattKabus.com or Facebook.com/mattkabusmusic.