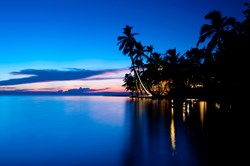 "That's why education is such an important component of eco-tourism. When people see the stunning beauty of nature they become more interested and involved in protecting it."
San Ignacio, Belize (PRWEB) December 12, 2013
The Lodge at Chaa Creek, which has been an active member of the Belize Tourism industry Association (BTIA) since its inception 28 years ago, reports that that this year's recent Annual General Meeting had climate change as a major topic of discussion.
Lucy Fleming, co-founder and GM of Chaa Creek, and a past president of the BTIA, said it was heartening to hear industry colleagues vocalise their concerns about the effect climate change is having on the tourism industry of small, low lying nations such as Belize.
"It is important that Belize joins other nations in raising our voices about this issue, since it seems that only concerted action will sway the world's more developed nations and largest polluters to first, identify the problem, and secondly, do something about it.
"Here at Chaa Creek, and especially through our Belize Natural History Centre we've been taking a grass roots approach towards educating our guests and the general public about climate change. Other eco-resorts are also participating, and I think it's important that as an industry, especially in an eco-tourism based economy, we put our voices and resources together to continue raising the alarm, not in preaching to people, but in raising awareness," Ms Fleming said.
This year's guest speaker at the BTIA AGM was Dr Kenrick Leslie, executive director of the Caribbean Community Climate Change Center, and in his address he emphasised the accelerating nature of climate change.
Claiming that data from weather stations in Belize show that the Caribbean is exceeding the global average in rising temperatures, Belize News 5 quoted Dr Leslie as saying that; "Low-lying countries like Belize will face the onset in the shift of the climatic norm and the impact of the rising sea level and coastal areas and beaches within the next two decades."
Ms Fleming said that Dr Leslie's statements echoed concerns raised at a meeting of the Organisation of Eastern Caribbean States (OECS) last September, during which St. Kitts and Nevis Prime Minister Dr Denzil Douglas stated. "More than ever we are confronted with the threat of frequent and severe droughts, hurricanes, dwindling fish stock and all of the other threats that so clearly reflect the nature of our own island existence."
Michael Taylor from the United States Agency for International Development (USAID) agreed with Dr Douglas on the need for urgent action, and that civil society was crucial in this area, saying, "Unless the local population fully understands the issues and are prepared to make a commitment to participate actively, success can be jeopardised," according to the Inter Press Service News Agency.
MS Fleming said that meeting showed that climate change concerns were Caribbean-wide and was one more reason why BTIA consensus on the seriousness of the issue was so crucial.
"At the end of the day it's a snowball effect. If those of us representing a country's biggest income earner put our voices together, they will be heard by the Caribbean government leaders. And once those leaders join together in raising the issue in international forums, we stand a chance of something tangible being done.
"The alternative is more inaction, and accelerated climate change until we reach the tipping point of no return," she said, but added that growing awareness gives hope for the future.
"Humankind is capable of doing extraordinary things, once we put our minds to it," Ms Fleming said, "Our job is to help people put their minds to the problem. That's why education is such an important component of eco-tourism. When people see the stunning beauty of nature they become more interested and involved in protecting it," she added.
The Lodge at Chaa Creek is an award winning eco resort set within a 365 acre private nature reserve in Belize.
ENDS