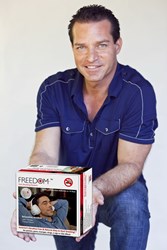 Los Angeles, CA (PRWEB) December 12, 2013
Formerly addicted smoker Craig Nabat, Founder of Freedom Laser Therapy, a Los Angeles based nicotine addiction clinic wants to offer reality star, television and record producer Simon Cowell a nicotine free and all natural method for him to quit smoking. It has been reported numerous times in the media this year that 54 year old Simon Cowell, The X Factor USA star and former American Idol judge's pregnant girlfriend Lauren Silverman is demanding for him to quit smoking before their first child is born next February. Silverman has supposedly laid down the ground rules that there will be no smoking around the baby, if he chooses to still smoke. In November, Arsenio Hall staged his own intervention with Simon on his talk show after being overwhelmed during their interview by the strong smell of smoke radiating from him. http://bit.ly/1iOCKkk
Nabat has been attempting to offer Cowell Freedom Laser Therapy http://bit.ly/1gjmWnO to protect the health of his unborn child and prolong the life of this uber successful businessman, producer, and A&R executive. Cowell is reportedly seldom seen without a lit cigarette. His craving for nicotine is supposedly so intense that he prefers smoking to sex and was quoted as saying, "When I'm having sex, I'm actually thinking I want to hurry up and finish so I can have a cigarette!" According to the American Lung Association smoking reduces one's life expectancy by an average of 13 years for a male smoker.
Simon is defiant about quitting smoking as reported by People Magazine and declares he'll have a smoking room in his home. http://bit.ly/18OelYh Nabat says, "Simon mentioned in the press that electronic cigarettes don't work to quit smoking." Cowell is correct, why would a person use nicotine to quit nicotine, the exact same drug they are addicted to? It is a silly premise and people who believe they are quitting smoking switching to E-Cigs from traditional cigarettes should realize they are simply only transferring the device used to ingest nicotine. The electronic cigarette smoker will still remain enslaved to nicotine."
Nabat is offering to personally treat Simon for his nicotine addiction next time Cowell is in Los Angeles or Freedom will send Cowell the new at home Freedom Quit Smoking System- America's Nicotine Free & Natural Way to Quit. Nabat openly says to Cowell. "Man, you've got it all, beautiful girlfriend, a child on the way, career success, money to enjoy every single whim you desire and it can all be taken away from you in an instant, if you suffer from a heart attack, stroke, or tobacco related illness. I've personally helped thousands of smokers stop permanently and I'm certain I can help you quit smoking too."
Craig strives daily to help smokers looking to stop smoking. Freedom Laser Therapy has been treating celebrities for nicotine addiction over the past decade and their pain free laser therapy procedure is known as the quit smoking treatment to the stars. Freedom Laser Therapy has appeared at countless celebrity gifting suites educating celebrities that people struggling to stop smoking can now quit naturally and experience reduced withdrawal symptoms.
Nabat continually focuses his aim at urging celebrities to Live Free from Nicotine. Nabat strongly believes images of celebrities smoking which are captured by the media undoubtedly causes many teens to initially start smoking; and he claims one of reasons he started originally smoking was being influenced by a cool A list male actor lighting up in a feature film.
Freedom Laser Therapy has been featured on Access Hollywood, The Doctors, Fox News, Huffington Post Live, TLC, VH1, Perezfit.com, Examiner.com and Radaronline.com; http://bit.ly/1i2lnw9.
Despite there being a diminished number of smokers over the past 40 years, cigarette smoking is still considered the single largest preventable cause of disease and premature death in the United States and nearly one in every five adults are still smoking. The number of adult smokers in the United States is still staggering at approximately 42.5 million. Nabat is Dedicated to Freeing the World from Nicotine Addiction and is driven to help all smokers who have the desire to Live Free.
From More information:
http://www.freedomquitsmoking.com
http://www.freedomlasertherapy.com
Media Contact:
Craig Nabat
323-933-0304 tel
info(at)freedomlasertherapy(dot)com
####
Corporate Information
Freedom Laser Therapy established in April 2003 has treated 10,000+ smokers for nicotine addiction. After a decade of research and clinical experience of helping smokers quit, Founder Craig Nabat invented the new Freedom Quit Smoking System, a 10 day all natural and nicotine free at home program designed to free smokers from the addictive grip of nicotine. In a research study 70% of the subjects quit smoking 30 days after being on the program. Freedom Laser Therapy is actively working with reps who are now approaching corporations nationwide promoting Freedom's corporate smoking cessation program. The goal is to reduce employers' health insurance costs for their smoking employees and align with socially conscious companies seeking to substantially decrease the number of smokers in the United States.