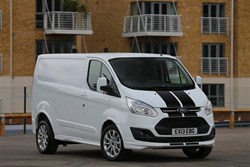 Ford's ability to produce a continuous stream of incredibly capable vans reflects the amount of skill and effort it puts into its commercial division.
(PRWEB UK) 11 December 2013
Ford is continuing its much enjoyed success with its fleet of vans, with the Ford Transit Custom recently reaching a monumental 10,000 unit sales figure in the UK, a year ahead of schedule.
This accomplishment is in addition to the Custom's International Van of the Year 2013 accolade, whilst the new Ford Transit Connect has already been crowned International Van of the Year for 2014 and looks to enhance the company's achievements going into next year.
However, Ford's ambitions don't stop there; the Transit Custom range is set to expand next summer with two new variations, before another goes on sale in the winter. The ECOnetic, Sport Van and high-roof models will arrive throughout 2014 with the middle example in that trio being of particular interest to many.
The Custom Sport is most certainly aimed at drivers and fleets that want to drop the conventional 'van man' moniker and drive something with a little more panache. Its aggressive styling makes sure the Custom Sport stands out, and whilst it isn't expected to take the bulk of the orders, the model is among Ford's best when it comes to commercial vehicles.
Based on the short wheelbase 290 Custom, the Sport is powered by the range's most potent engine; the 2.2-litre TDCi unit produces a useful 155bhp and 284lb ft of torque to help propel the Custom Sport through the gears.
Perhaps more importantly for those planning to buy the Custom Sport, the van maintains a 1,075kg payload from the traditional Transit Custom, as well as the full 5.95m3 load volume.
The Transit Custom Limited version of the van is considered the most complete when it comes to equipment. The Custom Sport carries on from this high spec, but adds part-leather seating trim, an extensive trip computer, a rear-view camera with Trailer-Hitch assist and a monitor in the rear view mirror, as well as Ford's Lane Keeping Alert system.
Stoneacre Motor Group's Managing Director, Shaun Foweather, said of Ford's commercial vehicle success: "Ford's ability to produce a continuous stream of incredibly capable vans reflects the amount of skill and effort it puts into its commercial division.
"To become the first manufacturer to win consecutive International Van of the Year awards is an outstanding achievement and I can only be proud to have it as one of our assets. With the new Custom Sport, we admire Ford's ambitions to offer a versatile range of commercial vehicles that can appeal to a whole host of customers."
Stoneacre's Sales Director, Ken Craig, added: "Seeing Ford's sales of the Transit Custom hit 10,000 in less than 12 months of going on sale is certainly impressive, and as the Custom range expands through the Sport and other models, we can only see further growth in this area for Ford.
"The Custom Sport certainly offers private owners and fleets to add something particularly eye-catching to their bill of vehicles and is a model that would allow them to perhaps gather business from sources previously untapped as a result."
Stoneacre Motor Group offer deals on 1,000s of new and used cars across 13 different manufacturers from around the world at 29 different sites, as well as fantastic car finance packages.